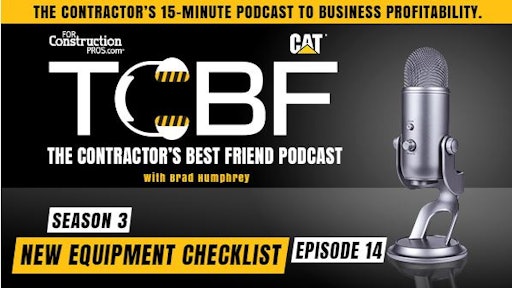 When should the learning process start?
What is your process for when you buy a new piece of equipment? Before everything else, you should start to train your operators on the entire piece of equipment, not just turning the buttons on and off. 
Join Brad Humphrey  and the subject matter experts as they discuss when the learning process should start, how to leverage the resources at your fingertips and so much more.  Tune in now, and put these ideas to work! 
Moderated by:
Brad Humphrey, The Contractor's Best Friend, Pinnacle Development Group - Founder
Brought to you by: 
Jason Hurdis, Caterpillar Inc, Global Market Professional – Quarry & Aggregates Industries
Lonnie Fritz, Caterpillar Inc, Senior Market Professional – Construction Industries
NEW EPISODES EVERY OTHER WEDNESDAY 
Subscribe on iTunes: itunes.apple.com/us/podcast/the-c…d1406479825?mt=2 
Listen on Stitcher: www.stitcher.com/s?fid=205707&refid=stpr 
Leave a review: itunes.apple.com/us/podcast/the-c…d1406479825?mt=2
Tell us what you think of the podcast series, take our survey: www.surveymonkey.com/r/DSVVLX9 
Listen to more construction news on the Construction News Tracker at www.forconstructionpros.com
Caterpillar experts are here to answer your questions: https://www.cat.com/en_US/by-industry/construction/tipstechandtools.html