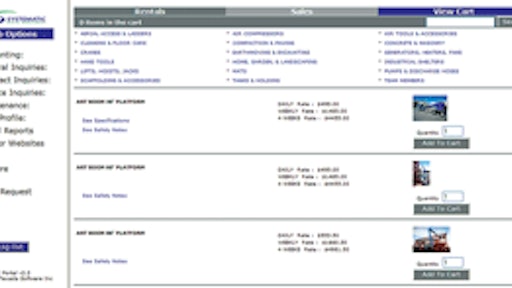 When you're driving down the road and you see a rental company delivery truck that's beat up, visibly dirty and probably unsafe, what does that say about the rental company?
Answering his own question, Texada Software Inc. CEO Brian Spilak says it shows the rental company doesn't care about its vehicle and probably doesn't care about its rental equipment either. Right or wrong, that's a prospect's first impression, and it's an impression that doesn't lead him to do business with that company. Website first impressions can have the same effect.
But when websites are done right, Spilak says, they can increase traffic flow to your store, provide another revenue stream and make the rental process more efficient.
"If you can provide tools to your customers to help streamline the rental transaction process, that ultimately decreases the cost for customers to do business with you," he says. "You've made a true difference that will be very hard for any competitor to unwind down the road."
Lily Ige of Wynne Systems Inc. points out that the first thing people do when they hear a name of a product or company is turn to the Web to find out more.
"If your rental business doesn't have an effective website or has a website that's obsolete," says Bob Shaffer, president of Point-of-Rental Systems, "then you are losing money to your competitors."
Because websites are one of the most popular and cost-effective forms of advertising - and they can serve as an extension of your store or even a separate store - many rental businesses need to focus more on creating a better web presence. Some still need to create a website while others can benefit from expanding or enhancing their current site.
Organizing your website for your visitors
"A good website can create excitement about your business and the products you offer," says Ray Bonestroo, president of Genisys Software Inc. "It can create awareness about items that customers maybe didn't know you carried or didn't even know could be rented."
Jack Shea, CEO of Solutions by Computer, says websites can be exciting and informative. "Include as many product photos, specifications, operating instructions and safety tips as you can, and have the site interact with your rental computer system," he suggests. "That way, you're using the Internet to improve both customer service and revenues. It's a win-win situation for you and the customer."
But more content doesn't automatically equal customer-friendly information. "Your customers should be able to understand quickly what you do, what you offer and how they can do business with you," says Steve Milcik, sales manager for Orion Software. "If potential customers can't find what they're looking for quickly, they'll go elsewhere."
In fact, Shaffer says customers need to find what they are looking for in two to five clicks.
Preparing content that customers want
Be sure to ask yourself if your website has everything your prospects and customers want it to have.
Shaffer points out just having contact info, directions to the store and a few inventory pictures is no longer sufficient. "With the rapid growth of online shopping in a global economy, a dynamic and feature-rich website became essential in today's business world," he says.
An online shopping cart generates more business because customers can find what they need and immediately take action.
Shaffer lists the overall features of a comprehensive, integrated website:

Automatic uploading of rental and sale inventory (with pricing, specifications, instructions and photos)
Category and keyword searching
Quote requests that are emailed to the store for follow-up
Map with the store location(s) and driving directions
Policies that define the age required to rent equipment, the necessary ID, payment methods, deposits and rental periods
Downloadable account application
Search engine optimization
"The essential piece is getting customers to initiate contact with the store through a quote request system or shopping cart," Shaffer says.
Spilak says many rental companies are using a shopping cart application to sell safety supplies, parts and contractor supplies and have had great success.
Some rental companies also allow customers to reserve inventory online, assuming they have an account or can use a credit card, Bonestroo says. At minimum, he says, customers should be able to request information via email, but someone should be monitoring the email account daily.
Shea says rental businesses are also expanding their online presence by providing e-services. "The rental company's customers can use the Internet to log in and select from a range of reports related to their own account activity," he says. "It?s a huge convenience."
Sending 'invitations'
To help customers and potential customers take advantage of these benefits, they have to be able to find your website.
"Promote your website anywhere and everywhere you can," Ige says. Put it on business cards
and receipts.
Shea emphasizes, "If your customers are small contractors who don't spend a lot of time on the Web, be sure your 'clicks' presence is supplemented with plenty of 'bricks' exposure - paint your web address on your trucks, put decals on your equipment, include the address on mastheads for your stationery and monthly statements."
Bonestroo suggests repainting or updating the sign outside your store and adding your website address there, too.
You should also get listed in online directories and link with manufacturers and industry associations.
When customers don't have your address in front of them, they'll use a search engine. Milcik says make sure your website contains many relevant words like "equipment rental" to allow you to get more hits.
Search engine optimization for a few keywords, such as "equipment rental in Dallas, TX" can be achieved with HTML tags. To market key rental items, Shaffer suggests pay-per-click advertising with Google Adwords or a similar service.
Periodically review how easy it is to find your site and update your marketing strategy on an ongoing basis, Shaffer says.
Ensuring return visits
Keep your customers happy and coming back for more with things like up-to-date news, monthly specials and training opportunities, Ige suggests.
"A website should be updated - at least quarterly - with any new items you might be carrying, any new items you are selling, any company news, etc.," Bonestroo says.
Being able to change content quickly is an advantage websites have over other media.
Definfing success
After all your hard work, how do you know if your website is a success? Monitoring how many hits per day the website gets is a good way, Ige says.
Many tools allow you to measure how many hits you're getting and where on your site people are spending their time. Milcik notes Google Analytics is free.
You will know exactly how much business is generated through your site if you have web inquiries or web reservations, Bonestroo says. Or, he says, if you have web-based coupons or other offers that require customers to mention seeing the offers online, you can track how much business came in.
There's also simple and direct way to get feedback. "Just ask your customers," Milcik says. Hopefully, they will report your website made a good first impression.
If your website is not producing acceptable results, don?t give up. Shaffer emphasizes going back and looking at your design and content as well as search engine optimization strategies.
It?s worth it. As Bonestroo says, "A good website can mean the difference between a company barely making it and a very prosperous company."
Building your own site
Maybe you're not afraid of spiders, but the thought of designing and building your own website sends you running. Not having the interest or ability to create a website yourself or in house shouldn't be an excuse for not having a good website. Ask for help.
The American Rental Association has a website hosting solution called ARA Web Services.
"You can also turn to web design companies that will do everything from design, creation, maintaining and hosting," Spilak says.
Bonestroo advises looking at samples of their work and asking if other similar rental businesses have experienced tangible results.
To set up and maintain a website that's necessary to stay competitive, Shaffer says it takes technical knowledge and lots of time. The demands are even greater for a dynamic website, which allows online inventory browsing combined with a shopping cart, he adds.
If you can develop a website that interacts with your rental computer system you can save time and lower your cost of doing business, Shea says. In some cases, he adds another way to avoid reinventing the wheel is by accessing product photos, descriptions and specifications by hyperlink from manufacturer websites or other industry sites.
A website doesn't have to be expensive, Spilak says. Small businesses can reach out to customers and prospects with the same frequency as their larger competitors with larger budgets.
"Websites are the greatest marketing equalizer that rental companies can utilize in today's business climate," he says.