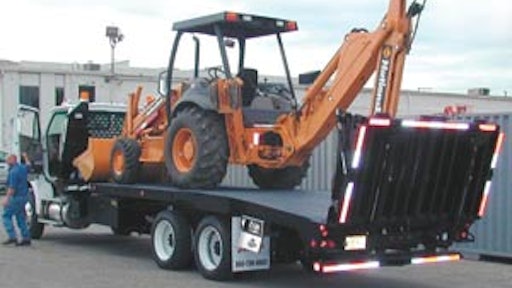 The Retriever, a revolutionary heavy equipment transport truck bed available from Up-N-Atom Inc., can increase profitability for equipment rental companies, equipment distributors and contractors by allowing more delivered equipment per shift at greatly reduced operating costs.
The Retriever is a patented low-profile truck bed that replaces pick-up trucks with trailers, hydraulic roll-back trucks, hook loaders and frequently semi trailers for hauling heavy industrial equipment. It's a more profitable alternative for equipment rental companies and equipment dealers; for general, demolition, distribution, drilling and directional boring contractors; for tree and landscape contractors; and more.
The Retriever's best features are its lightweight and low deck height. The typical heavy, complex, costly-to-maintain and difficult-to-operate hydraulic system has been eliminated as the Retriever uses the truck's own air system as the power source to raise and lower the patented, curved, hinged deck and bi-fold ramp.
The Retriever was developed by an engineer ing team lead by Joe Simons, a man who endured first-hand the same hauling chal lenges and high truck maintenance costs as the companies he now targets as customers. Simons owned and operated construction and industrial equipment distribution and rental companies for 28 years before bringing the Retriever to market.
"Traditional transport solutions cause problems," says Simons. "A pick-up with a trailer can't take continual heavy use. Roll-backs are heavy, expensive, have very high deck heights, require lots of maintenance and have all of the problems associated with hydraulics. Semis are expensive to buy and operate and very frequently oversized for the job, while hook loaders have all of the hydraulic and maintenance issues and you must remove the bed each time you want to load a machine."
He continues, "The Retriever solves all those operational problems and can save thousands of dollars per vehicle in annual maintenance costs."
The Retriever can move heavier payloads with smaller vehicles — non-CDL trucks can handle payloads as high as 13,000 lbs. Tandems can achieve a full 30,000 lbs. legal payload.
Relying on air instead of oil as its power source, the Retriever's deck operation is unaf fected by cold weather, eliminating costly downtime and lost revenues. "There is so little that can go wrong, a Retriever will easily outlive the truck it's mounted on," says Simons. "That's why we can provide a lifetime warranty… the only one in the industry."
Because the Retriever's deck is curved and hinged, a loading angle of 10.8 to 13.5 degrees (19 to 24 percent grade) can be achieved, depending on truck specs. Additionally the curved deck eliminates "breakover" when loading tracked equipment, saving both the machine and the truck from the typical pounding. There is also a patented traversing winch mount that travels the full width of the deck, making side-by-side loading or off-center hook-ups faster and safer. Forty tie-down points and ample, convenient chain storage add to the ease, security and safety of loading. Sure footing for both equipment and the operator is enhanced by the deck's extremely durable, high-traction epoxy coating.
The Retriever can be ordered with either dual, lightweight, aluminum slide-out ramps or with a full-width, air-operated, steel folding ramp.All models can be configured for loading dock access. The lower profile of the Retriever's deck improves bridge and overpass clearance for tall loads.
The Retriever is available in three capacity ratings: 7.5 tons for chassis to 30,000 GVWR; 10 tons for chassis to 33,000 GVWR; and
15 tons for chassis to 54,000 GVWR. All models are available in 18- to 26-foot lengths in two-foot increments.
Customers typically buy a new or used truck chassis from a local truck dealer and have the Retriever installed at the company's Waukesha , WI plant or through designated installation contractors in the United States and Canada . Scores of Retrievers have been sold to cus tomers from coast-to-coast, who are providing repeat orders and referrals but almost no calls for service or parts.
Simons Creates unique solution for Hauling Heavy Equipment
After 26 years of renting, selling and servicing industrial equipment, Joe Simons was certain he could create a superior way to haul heavy, bulky implements. By 2002, he had designed, patented and produced the Retriever truck bed, his first manufacturing venture.
From 1984 to 1998, Simons owned Midwest Aerial Platforms which sold, rented and serviced aerial work platforms for construction and industrial applications with three locations in Wisconsin and Illinois. For 12 years prior, Joe and his brother, Pete, owned the equipment rental company Badgerland Equipment, based in Waukesha, WI.
As a member of the American National Standards Institute (ANSI) A92 committee, Simons helped create the first aerial work platform standard in 1979 and served on the same committee when the standard was updated in 1992 to further improve safety. He's been a member of the American Rental Association since the 1970s, the Association of Equipment Manufacturers since 1990 and the Association of Equipment Distributors.
Simons studied business and engineering at the University of Wisconsin and Milwaukee School of Engineering.
He grew up on a farm near Oconomowoc, WI and has lived in nearby Stone Bank for decades. Simons served as a volunteer fireman there for 20 years and is active in his church. His wife, Susan, is captain of the Stone Bank Emergency Medical Squad. They've been married for 33 years and have two children.