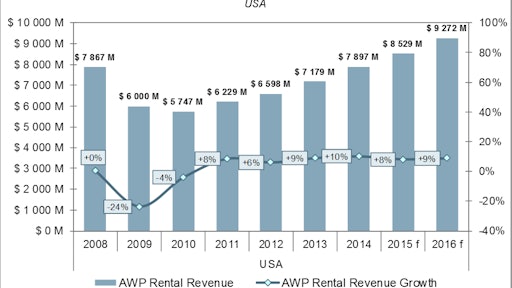 Contractors and end-users can expect newer and more modern equipment as the aerial work platform (AWP) rental market expands.
The US AWP rental market recorded strong growth of 10% in 2014 to reach approximately $7.9 billion, according to the IPAF US Powered Access Rental Market Report 2015.
Interviews conducted with rental companies in the US reveal even stronger AWP revenue growth than previously anticipated, exceeding pre-recession levels. In 2015 and 2016, rental companies are expecting slightly slower, but steady growth. AWP rental revenue is expected to exceed $9 billion in 2016.
Rental companies are investing heavily in new, cleaner AWPs, research shows. The US AWP rental fleet is now 12% larger than in 2008. The total fleet at the disposal of users now exceeds 500,000 units, which is almost 45% of the worldwide rental fleet. More than 20% of the US fleet is now Tier 4 compliant. This has doubled compared to the previous year. Scissor lifts represent 65% of the fleet. Major investment by rental companies also means that there should be no shortage of modern equipment despite the nation's fast-growing economy.
While some experts were expecting the rental market to be hit by oil price decreases, demand is up, driven by a strong construction market and reasonable industrial demand. The strong demand allowed rental companies to continue improving rental rates and pursue fleet size expansion, with relatively stable utilization rates, thus balancing the negative impact of decreasing oil prices.
Utilisation rates stabilized at 69% in 2014 and should stay at similar levels in the next few years. Average fleet age remained relatively stable at 55 months.
Rental rates improved by 4% in 2014. For 2015 and 2016, rental companies are planning on rental rate growth from 2 to 6%.
Rental companies continued to be cautious in business management: maintaining reasonable stable investment growth, and preserving the diversification of end-applications, with a third of their revenue in non-construction activities.
There are now 1,120,000 AWPs in the worldwide rental fleet. This is up 8% from the previous year.
The Canadian AWP rental market suffered more than the US from the fall in oil prices. Many rental companies heavily involved in this sector lost significant shares of revenue. In addition, the appreciation of the US dollar directly raised prices of US-manufactured equipment in Canadian dollars.
As such, the Canadian market did not grow in the same proportion as the US market and maintained average growth of +5% in 2014. The Canadian fleet is estimated at approximately 61,500 units.
The Chinese AWP fleet size grew at a rate of 25% in the past two years to reach approximately 9,000 units. Scissors account for 65% of total AWP fleet size and booms for 25%. Users typically rent AWPs for periods ranging between 3 and 12 months. Utilization rates are said to be very high at 80%.
The European AWP rental market grew slightly in 2014 (+1%) and is estimated at approximately €2.6 billion, according to the IPAF European Powered Access Rental Market Report 2015. Fleet expansion continued at a slow pace to reach 285,000 units.
Most European countries improved their situation in 2014. France and Finland were the only MEWP rental markets where deterioration continued. Spain and Italy showed signs of recovery after several years of shrinking. The markets in the UK, Germany, Norway and Sweden grew at similar paces, driven mainly by fleet expansion.
In comparison, US AWP rental market growth continues to outpace that of Europe. The US average revenue per unit followed a constant and positive trend while Europe witnessed continuous deterioration.
The share of AWP rental revenue as part of overall US rental revenue is significantly higher than in Europe. US rental revenue and fleet per capita are significantly above that for Europe, showing higher market maturity. The European AWP rental market is still struggling to get back, with a stagnating AWP rental revenue per inhabitant.