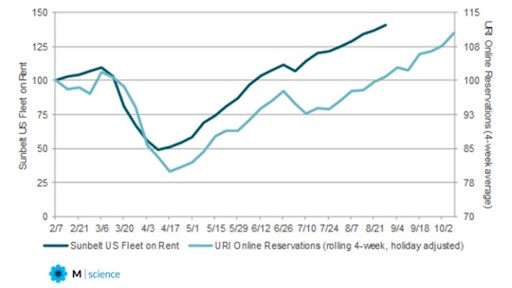 M Science
While 2020 has been a tough year all around, there are some signs that we are turning a corner – at least in industrial and construction equipment rentals.
For one, rental equipment volumes have continued to rebound sequentially through early fall, as construction activity has benefited from economic reopening. While key players such as United Rentals (URI) and Sunbelt are shrinking their fleets to right-size capacity, the amount of used equipment listed for sale at URI has begun to moderate in recent data, providing an early signal we might be past the worst in fleet reductions and getting closer to an equilibrium.
Let's look at a few key data points that can help determine the health of the equipment rental industry in 2020.
Reservation Volumes
At M Science, we track online reservation volumes at United Rentals as a barometer for underlying fleet on rent. In Q3, online reservation volumes grew 2% Y/Y with activity accelerating through the quarter. Average weekly reservations were up ~6% Y/Y in September, excluding the impact of Labor Day, and are trending up 10% Y/Y in early October.
We view persistent sequential improvements in online reservations since April lows as a constructive read into 2021, although the Y/Y growth in our data partially reflects increased adoption of online ordering tools in the current environment.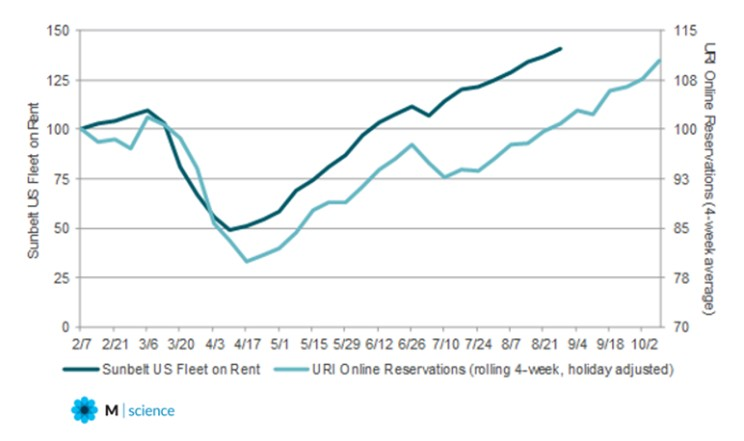 United Rentals Weekly Online Reservations Index vs Sunbelt's Reported U.S. Fleet on RentM Science

Right-Sizing Fleets
Fleet downsizing efforts appear to have accelerated across the industry in Q3'20, as rental houses manage free cash flow and attempt to increase utilization levels in this challenging environment. While downsizing is a near-term headwind, we have to remember that many rental companies began the year with expectations of market growth. A moderation in fleet size reflects the reality of current economic circumstances – a trend which has moderated as the year has gone on.
While it remains to be seen how this may progress through the winter and into 2021, encouragingly, United Rentals' September used equipment listings reached the lowest level since pre-COVID 19 in our data. This suggests fleet disposal efforts may be nearing a bottom entering Q4.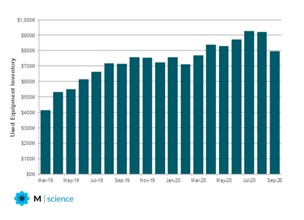 United Rentals Used Equipment Listed for SaleM Science

Fleet size and online reservations are perhaps some of the most important metrics as they gauge customer confidence and need for equipment, as well as the economic expectations on behalf of the rental houses. Overall, these trends suggest positive momentum for the industry as we close out 2020.    

All sales, listings, and other company-specific trend data are estimates based on M Science's proprietary data and analysis. There can be no assurance that such estimates will prove to be accurate. M Science is a data-driven research and analytics firm, uncovering new insights for leading financial institutions and corporations. Alex Prudhomme is a senior industrials analyst covering major brands such as United Rentals, Carrier Global, Caterpillar, Cummins, Deere, Paccar, Rockwell, Trane, and others. For more information email insights@mscience.com.
Companies in this article