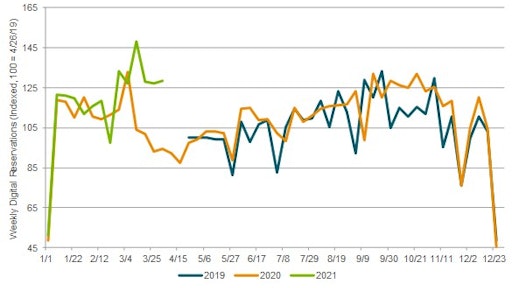 M Science
Recent data points in M Science's work suggest the equipment rental market is experiencing a healthy and accelerating recovery, characterized by improving fleet utilization, moderating rental rate declines, a favorable capex environment, and wide-spread increases in hiring. Our data generally supports a more optimistic outlook and faster recovery than operators had forecasted several month ago, presenting an encouraging read-through for 2021.
Digital Reservation Volumes Suggest Higher Fleet Utilization in Early 2021
At M Science, we track online reservation volumes at United Rentals and Sunbelt as a barometer for underlying fleet on rent. Please note, due to the growing share of online orders over time, trends in our online reservations data typically outpace underlying volume growth on a Y/Y basis.
Digital Reservations in Q1'21 signal a marked improvement in underlying activity levels with our data for both United Rentals and Sunbelt tracking well ahead of Q4'20, and accelerating through the course of the quarter with March volumes finishing up double-digits Y/Y at both operators. At United Rentals, digital reservations in our work increased 10 percent Y/Y in Q1'21 and 26 percent Y/Y in March, ahead of 6 percent Y/Y growth in Q4'20. March volumes were very encouraging and likely reflecting both improving underlying demand and a rebound from a slower February, which was impacted by weather-related delays. We expect growth rates are likely to accelerate further in Q2'21, lapping COVID-19 related headwinds.
Hiring Activity Picking up Across Public Rental Houses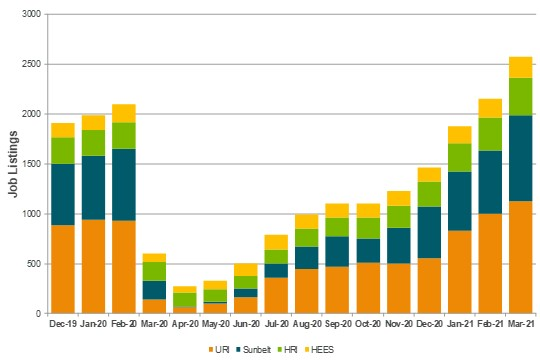 Job Listings Across North American Rental HousesM ScienceImproving utilization volumes and growing customer backlogs have driven a recent spike in job postings across a sample of public rental houses, including United Rentals, Sunbelt, Herc, and H&E Equipment Services. Aggregated job postings across this sample of operators increased 19 percent M/M in March to an all-time-high in our data, and are trending up 326 percent Y/Y against very easy year-ago comparisons.
In the context of moderating rental rate pressure, improving fleet on rent trends, and reduced used equipment for-sale inventory, we view the pickup in hiring as an encouraging read into growing project backlogs and greater confidence in human capital needs in the coming months.
Used Equipment Listed for Sale Reaches a Two-Year Low, Providing Encouraging Capex Outlook
United Rentals and Herc Rentals Used Equipment Listed for SaleM ScienceAn improving demand backdrop and a disciplined approach to fleet management in 2020 have helped set the stage for heighted equipment spending in 2021. In our work, we observed a marked reduction in used equipment listed for sale across United Rentals and Herc with March listings reaching the lowest level in our dataset history (through Q2'19) and declining 31 percent Y/Y (Q4: -6% Y/Y). Reductions in for sale inventory are an encouraging read on improving supply-demand dynamics and supportive of a growing capex environment.
Rental Rate Declines Moderate in Q1, Likely to More Notably Improve in Q2
At M Science, we track general rental rates for +600 equipment SKUs at +1,000 United Rentals', Sunbelt Rentals', and Herc Rentals' branch locations to understand how rental rates are changing at the largest market participants (~23 percent of the market) on a bi-weekly basis.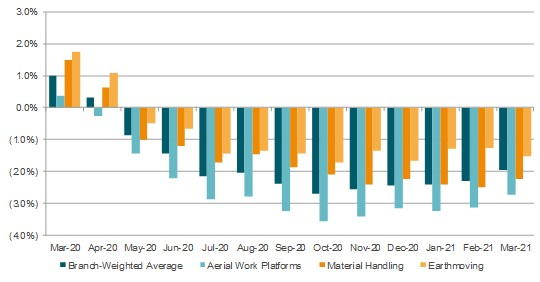 United Rentals General Rental Rates (Change Y/Y)M ScienceIn Q1'21, we observed further moderation in general rental rate declines at United Rentals, which fell 2.2 percent Y/Y overall and 2 percent Y/Y in March, ahead of a 2.6 percent Y/Y decline in Q4'20. The cadence of the recovery has been methodical with Y/Y declines in rental rates moderating in every month, following a low in October '20 in our data. We expect underlying pricing trends are better when including specialty rental categories, such as pump, power, and HVAC equipment, which have shown more resiliency in our data.
We expect rate trends to more meaningfully improve in Q2'21 against much easier year-ago comparisons and an expected seasonal lift in rental rates that was absent in 2021.