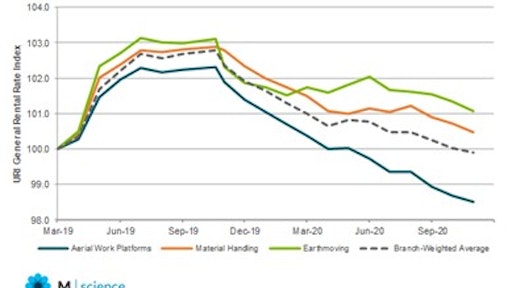 Like nearly every industry in our economy, 2020 has dealt a meaningful blow to the rental equipment market. As construction and industrial production activity slowed, the demand for equipment rentals pulled back putting pressure on rental rates and causing rental houses to cut their fleet size. But after a difficult year, our latest data shows some continuing signs of progress and reasons to be more optimistic heading into 2021.
Equipment rental participants have been keenly watching rental rate trends headed into the winter. Many are concerned that rental rate pressure could accelerate into the seasonally weaker period. However, trends in our data suggest rental rates have held up better than feared QTD with rental rate data holding strong through the 15th of the month.
Rental Rates
At M Science, we track general rental rates for +600 equipment SKUs at +1,000 United Rentals', Sunbelt Rentals', and Herc Rentals' branch locations to understand how rental rates are changing at the largest market participants (~23% of the market) on a bi-weekly basis. 
In mid-November, general rental rates at United Rentals are trending down 2.4% Y/Y, improving from trends in October (-2.7% Y/Y) and representing a modest change in trend, following degradation in Y/Y data since April. The improvement is primarily driven by a less notable seasonal pullback in rental rates. We expect trends in December could improve further, assuming flat sequential rental rates, as year-ago comparisons meaningfully ease in the month. Overall, rates QTD have held up better than anticipated.
United Rentals General Rental Rates (Change Y/Y)
Source: M Science
By product category, earthmoving and material handling (i.e. telehandler) rental rates have held up better YTD, only modestly declining from April's levels (-0.5%), while aerial work platforms (AWPs) have faced more notable headwinds (-1.5%). In mid-November, AWPs and earthmoving equipment saw improvements in rental rate trends on a Y/Y basis.
United Rentals General Rental Index by Category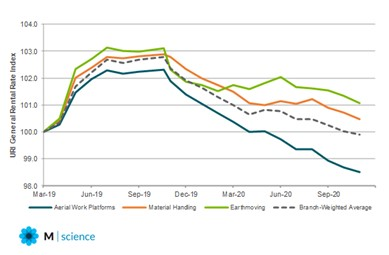 Source: M Science
In our regional data, general rental rate trends improved on a Y/Y basis in mid-November in five of the seven tracked geographies in the U.S., relative to October. Rental rates in our data are largely flat Y/Y in the Pacific West, Midwest, and Mountain West regions, while down greater than 2% Y/Y in the Mid-Atlantic, Northeast, South, and Southeast regions. 
United Rentals General Rental Rates Indexes by Region (Change Y/Y)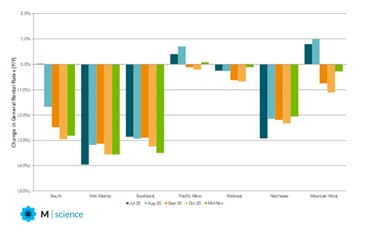 Source: M Science
Companies in this article