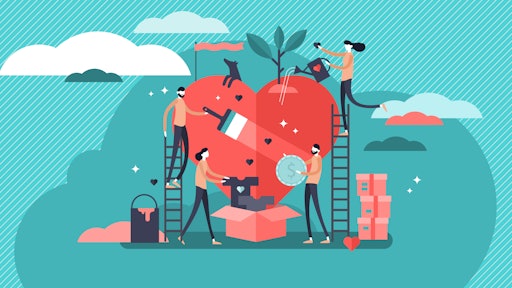 VectorMine -- stock.adobe.com
In my last editor's column, I talked about silver linings that have risen from the challenges of 2020. Things like innovative new ways to communicate and connect, manufacturers switching gears to provide aid, and learning newfangled skills that lead to success.  
These silver linings have come to light in a new way for me in the last few weeks. However, this time they surfaced as companies and individuals volunteering, helping, and proactively caring for communities, the environment, and those in need.  
For starters, I had an interview with Skyjack President Ken McDougall about the company's WE RISE campaign, which shows the steps the rental industry has taken to become stronger and more connected with communities and employees during COVID-19 and its aftermath. They're encouraging rental companies and business owners to submit and share their stories of things like community donations, customer and/or staff care, and new practices for navigating these troubling times. For example, one story is about a husband who rented a Skyjack scissor lift to visit his wife in a long-term care facility. 
Then I received a few press releases about Point of Rental's employee-led, officially recognized 501(C)3 organization, Point the Way. Over the past several years, Point the Way has made donations including laptops for an orphanage in Kenya, matched donations to employee initiatives to provide wildfire relief efforts in Australia, and support equal justice in the U.S. Most recently, they partnered with Fox Rental to help make a young widow's life a little easier, cleaning and redoing her entire backyard.  
Then, TVH in the Americas joined the Adopt-A-Street Program in Olathe, Kansas, which is a volunteer program that provides business and other organizations the opportunity to work with the city to help improve the environment. They collected over 70 lbs. of trash from their 1-mile stretch! Honda Power Equipment honored a Georgia artist, Michael Davenport, during National Disability Employment Awareness Month. Davenport is an artist who taught himself to draw after losing his arms in an accident when he was a teenager. 
And Doosan Bobcat North America, in partnership with the Wounded Warrior Project (WWP), presented U.S. Army veteran Andrew Long with a new Bobcat R-Series T76 compact track loader and 80-in. bucket attachment.  
All of these are wonderful examples of how companies can make lemonade out of lemons, strength out of adversity, and kindness out of strife. Have you done something to help others? Do you know of a company going above and beyond? Shoot me a message at abrumm@acbusinessmedia.com and let me know.  
In the meantime, stay strong, stay smart, and stay safe.     
Alexis Brumm