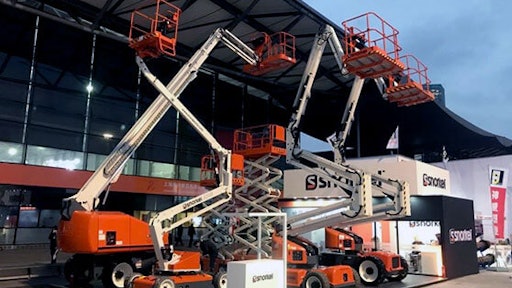 Snorkel
Snorkel showcased its expanded China-built product line with two new models at the bi-annual Bauma China exhibition that opened Nov. 23 in Shanghai. This is the first major exhibition Snorkel has attended since the start of the COVID-19 pandemic.
From its 3,000-square-meter production facility in Jintan, Jiangsu Province, China, Snorkel began assembly in 2017 of two electric slab scissor lift models, the Snorkel S3219E and S4732E. This was followed by the introduction of the Snorkel A46JE electric articulated boom lift in 2018, and the Snorkel A38E electric articulated boom lift in 2019.
Growing in line with the market, Snorkel is continuing to add new models to its China assembly facility to meet customer demand. As boom lifts increase in popularity across China, Snorkel has this year expanded its domestically assembled offering with two diesel-powered boom lifts, the Snorkel A46JRT and the Snorkel 660SJ.
Designed for tough jobsites, the Snorkel A46JRT articulated boom lift combines powerful four-wheel drive with maneuverability and precision. A leader in its class, the Snorkel A46JRT delivers a working height of up to 16.3 meters and an outreach of 7.35 meters. Ideal for working in tight spaces, the A46JRT has an inside turning radius of 0.8 meters, and the boom operates with zero tail swing. The spacious 1.83 x 1.0 meter platform can lift two people with tools, and the 1.5 meter jib offers additional flexibility at height.
Delivering excellent rough terrain performance, the Snorkel 660SJ telescopic boom lift is equipped with an 18.3 meter boom and a 2 meter articulating jib. Delivering a 20.1 meter maximum platform height and an outreach of up to 18 meters, the Snorkel 660SJ has an unrestricted lift capacity of up to 272 kilograms. Fitted with a 2 meter jib boom for additional flexibility, this heavy-duty lift measures 2.46 meters wide and the stowed length of 10.5 meters can be reduced to 8.5 meters for transport by stowing the jib underneath the boom.
The first China-built A46JRT and 660SJ will be on display at Bauma China, alongside the Snorkel A38E and A46JE electric articulated boom lifts and the S3219E and S4732E electric scissor lifts, on Snorkel's stand in the outdoor area.
Matthew Elvin, Snorkel's CEO, said, "We continue to expand our offering in China, working closely to meet the requirements of our customer base, and we are confident that these two new models will be well received in the market. Although unable to attend in person this year, I wish our Snorkel China team, our customers and vendors, and all those involved in Bauma China a safe and successful show."
Companies in this article