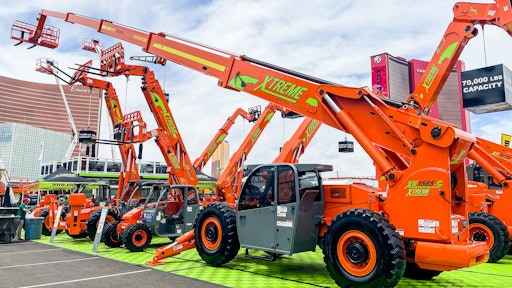 Xtreme Manufacturing is marking the return to in-person trade shows with the debut of what it describes as "the world's tallest fixed boom telehandler." The new model, along with other product offerings, is on display at World of Concrete 2021 in the Diamond Lot (#D414) in an exhibit shared with Snorkel. 
The new XR1585-C has a maximum lift height of 85 ft., and is the first Xtreme telehandler to utilize a five-section boom design. Capable of lifting loads of up to 15,000 lbs., it provides a 67-ft. maximum forward reach and is available with a choice of fixed, fork positioning, swing or side tilt C-class carriages. 
The 65,500-lb. unit is powered by a 173-hp Cummins 4.5L Tier 4 Final diesel engine with a large-capacity 100-gal. fuel tank. Sporting a newly designed chassis specific to this model, it measures 102 in. wide, has a stowed height of 10 ft. 1 in. and has a turning radius of 16 ft. 8 in. Wide-stance outriggers are standard for maximum stability.
The XR1585-C has a hydraulic flow of 49 gpm and a hydraulic pressure of 4,000 psi, allowing it to be fitted with a range of C-class attachments, including pole grapples, sling mounts, truss booms, buckets and personnel platforms. A version of the XR1585-C for B-class attachments (the XR1285-B) utilizes a B-class carriage and has a reduced 12,000-lb. maximum capacity.
Other features include:
360° visibility from the cab
Fully-rated boom lift point
Long-life boom rollers for smooth operation
Choice of open cab, enclosed cab and enclosed cab with heat and AC
Various tires, fork tines and options, including telematics, available
The XR1585-C is expected to enter full production by late 2021.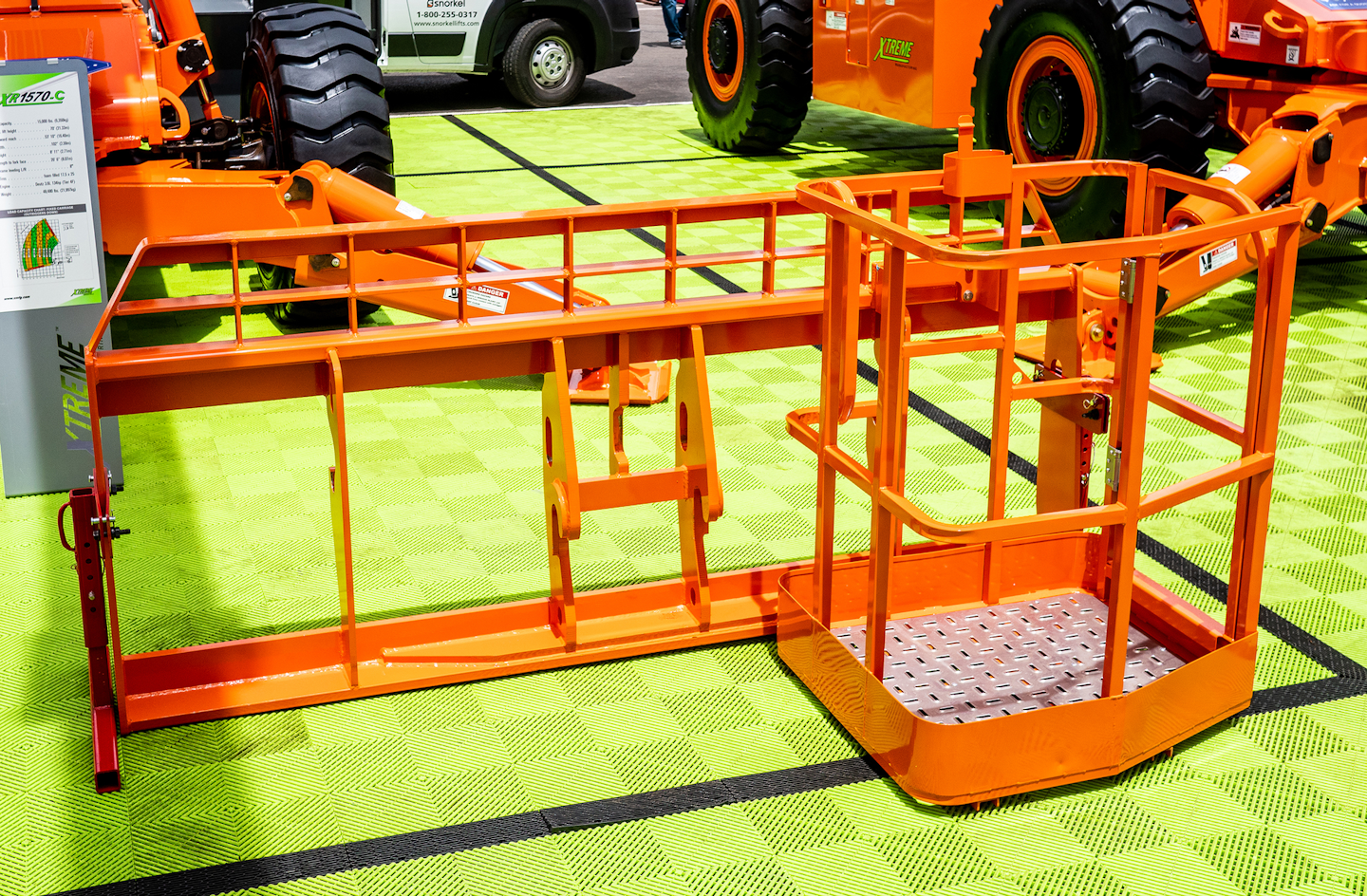 Patent pending operator station conceptTo accompany the telehandler's launch, Xtreme is also showcasing all-new concept designed to make it easier to precisely position loads at extreme heights. A patent pending operator station has been fitted to the rear of the XR1585-C carriage, enabling the operator to travel with the load to height for enhanced positioning control. Using a wireless RF pendant, the operator can control all boom functions from the platform to safely and efficiently place the load at height. The carriage is currently being shown as a concept design, and would be sold as an option.
In addition, Xtreme is launching its new patent-pending coordinated boom control option, also referred to as "coordinated motion". This option gives much greater control of the load position, making it safer, easier and smoother to pick and place loads at height, particularly when working on uneven terrain.
The option includes two sensors on the boom, which enable new horizontal and vertical boom operation modes. The length and angle sensors allow operators to achieve true horizontal and perpendicular fork motions, independent from the angle of the chassis.
This option is available on the XR944-B and XR1147-B, and will be rolled out across all the company's models during the remainder of 2021.