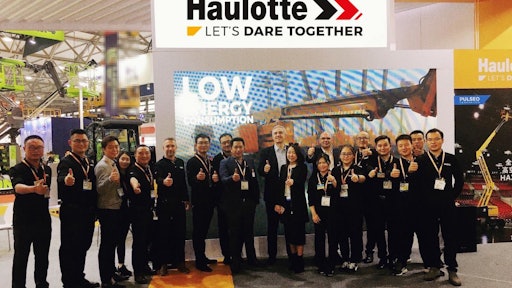 Haulotte Shanghai was recognized by the International Power Access Federation (IPAF) as the first company in China to have its entire staff complete the IPAF training.
All 42 employees, including sales people, administrative staff and technicians, now know how to safely use mobile elevating work platforms.
Safety continues to be a priority for Haulotte, which aims to offer a best-in-class and safe user experience. In 2015, the Chinese subsidiary became an approved IPAF training center.
The location continuously develops its training activities and has trained over 150 people since then. Meanwhile, William Fu, Haulotte's senior instructor, also trains other staff to become certified IPAF instructors to meet the huge demand in the Chinese MEWPs industry.
"We are pleased to support IPAF in China. This honor is the symbol of our sustainable worldwide collaboration," Harry Wang, General Manager of Haulotte China says.