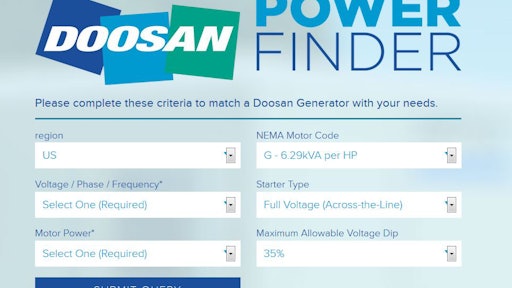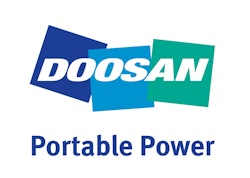 Doosan Portable Power introduces doosanpowerfinder.com — an online generator sizing tool, designed to help customers, Doosan dealers and equipment rental businesses, quickly and easily match Doosan generators with power demands.
Available on any web-enabled mobile phone or tablet with an Internet connection, the Doosan Power Finder tool matches power requirements — voltage / phase / frequency, motor power, NEMA motor code, starter type and maximum allowable voltage dip — with the proper model from the Doosan generator product line. Complete specifications for the recommended generator are displayed — detailing additional features such as runtime, fuel capacity, footprint, sound level and engine model. A copy of the specifications can be emailed from a mobile device using the Forward icon that displays at the bottom of the screen and selecting Share via Email.
Power Finder also makes it easier to find your nearest Doosan dealer through a Find Your Dealer option. The map shows nearby dealers based on current location or a specified location. Locator pins are tapped to display the dealership name, address, phone, website and driving directions to the dealer location. A Find Your Dealer search can also be filtered by product line, should a generator need to be accompanied by a light tower, air compressor or light compaction equipment. This is similar to the Dealer Locator available at www.doosanportablepower.com.
The Doosan Power Finder tool simplifies the process of finding the right power solution through accurate sizing, support from Doosan dealers and industry leading products built by a company with a century of experience.
Companies in this article