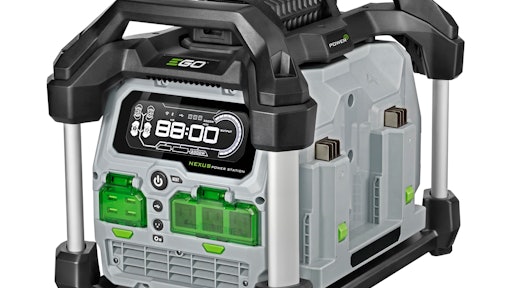 The EGO Nexus Power Station is a battery-powered inverter, designed as a replacement for compact gas generators.There are no emissions omitted and the Nexus Power Station is virtually silent.
The power station can be controlled remotely via Wi-Fi and BLE connections and allows users to harness power from any EGO POWER+ ARC Lithium battery. The Nexus Power Station uses anywhere from one to four batteries to deliver power, and when power is restored, it doubles as a charger for the 56V ARC Lithium batteries.
With four 7.5 Ah packs, the power station will provide 1680 watt-hours of power. Run times will vary based on batteries used and devices being powered. The runtime can be monitored from the EGO POWER+ app or viewed on the bright LCD display. 
3,000 Watt Peak Output (Pure Sine)
2000 Watt Continuous Output
50 lbs. 
4 X USB Outlet
3 X AC Outlet
4-Port Charger
Solar Charging Compatible
Vibrant LCD Display
Control and Monitor via Wifi or BLE
EGO Connect™ Enabled
Flexible Battery Configurations
Only 1 battery required to operate
Weather resistant
Request More Information
Fill out the form below to request more information about
EGO Nexus Power Station