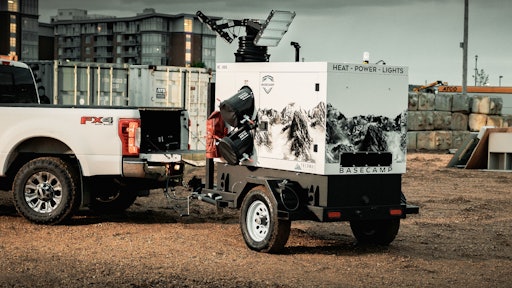 Thermal Intelligence introduces BASECAMP, a Smart 3-in-1 Heater, Light Tower & Generator. BASECAMP delivers market-leading efficiency as a Flameless Heater and provides a 360° LED Lighting Package and 27kW of Available Power.
The Basecamp green-certified heater, light tower and generator delivers efficiency as a flameless heater, provides a 360° LED lighting package and 27 kW of available power. Also, SmartTalk IoT technology monitors and controls the heater 24/7 and alerts via SMS or email before there's a problem. The Basecamp light package produces 192,000 lumens 5K color.
It has a minimum run time of 48 hours with 27 kW of continuous power and features three twist locks (30-amp ground fault circuit interrupter to 20-amp 120 volts). The Basecamp has a Kubota 2.4-Liter, electronic Tier 4 Final engine with a 119-gal. fuel tank capacity and a dry weight of 3,000 lbs. with cabinet dimensions of 3' 5" x 7' x 5'.
Significant cost savings can be realized from the technology that burns the least fuel, and that's where the Green Seal Certified BASECAMP's 97% efficiency shines. The operational savings don't stop there: 24/7 Remote Monitoring & Control, Smart Controls (resolving problems like potential wet-stacking autonomously), 2,500-hour service intervals, 48-hour fueling intervals, a built-in load bank for the generator, and No-Fire Watch all add up to significant operational savings, reliability, and simplification. Thermal Intelligence customers appreciate those attributes.
In comparing the cost of the 3-in-1 BASECAMP to its competitors, operators need to consider not only the cost of the separate lights and generators for a traditional worksite but the need for additional heaters to obtain an equivalent heating capacity. Depending on the exact equipment the BASECAMP is displacing, the fuel savings alone are $500–$700/day.
BASECAMP: 3-in-1 Heater, Light Tower & Generator from Thermal Intelligence on Vimeo

BASECAMP was developed to eliminate the pain and suffering that goes with traditional heating equipment from the lack of reliability, lack of connectivity and overall lack of product quality in the marketplace. In developing the unit, Thermal Intelligence drew on their years of experience working with temporary heat on plant sites and winter construction projects, looking at how they could solve the numerous challenges with existing equipment, including high fuel consumption, issues of reliability, and equipment monitoring in sub-zero temperatures. The company's patented ultra-efficient heat generation design effectively captures all waste heat produced, pairing a reciprocating engine with an electrical generation system. Combining state-of-the-art technology other industries have been using for years — like high-efficiency engines, low-maintenance heat generation, and wireless communication — brought their goal to life.
Request More Information
Fill out the form below to request more information about
Thermal Intelligence Basecamp Heater, Light Tower and Generator