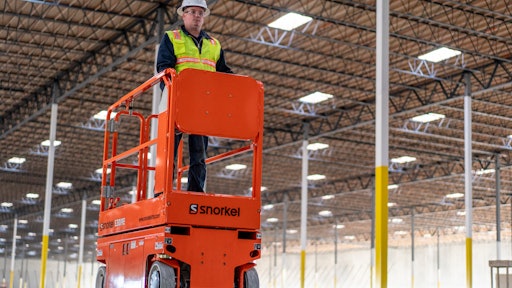 Leading aerial work platform manufacturer, Snorkel, returns to CRA Rental Rally this week to exhibit for the 5th consecutive year. Organized by the California Rental Association, CRA Rental Rally attracts attendees from the equipment and party rental industries.  
Exhibiting at the largest booth on the show floor, Snorkel will display 12 models from its range on a 2,000 sq. ft. island booth in the middle of the show hall at South Point Casino, in Las Vegas, Nevada.
Snorkel is debuting its brand new S3019E self-propelled electric scissor lift for the first time in the United States. At its global debut during Bauma in April 2019, the Snorkel S3019E revealed an industry-first design with a sunken scissor stack that stows entirely inside the chassis. This lift features a low step-in height of 22 in. compared to a conventional electric scissor, which may have a 39 in. step-in height and a flush-mounted two-rung ladder. Delivering a maximum working height of 25 ft., the S3019E boasts a maximum lift capacity of 550 lbs. and an overall machine weight of 3,485 lbs.
In addition, the Snorkel S3019E is also designed to comply with the new ANSI/SIA A92.2X standards, which will increase the minimum requirement for handrail height from 39 in. to 43.3 in. Its low stowed height of just 69 in. can pass through doorways without the need for folding guardrails.
Visitors to CRA Rental Rally will also see the Snorkel S2755RT rough terrain scissor lift, which is new to the CRA show floor. With a narrow width of 4 ft. 9 in., one of the key features of this machine is that is it specifically designed to work in constricted areas where a standard width lift would have difficulties. Capable of climbing gradients of up to 35% and designed to be towed by light commercial vehicles, the Snorkel S2755RT offers a maximum working height of 32 ft. 4 in. and weighs 6,062 lbs.
Snorkel will also display its custom delivery truck bed system, known as the Snorkel E-Z Loader. Available in three sizes the innovative truck bed features a ramp that can be deployed in just 17 seconds, for efficient delivery or collection of rental equipment. This is particularly important where deliveries take place on a road or in a confined area, where the delivery truck may be delaying other traffic. Other benefits of the truck bed include a knife-edge ramp for easier loading of large pieces of equipment, a longer ramp providing a lesser incline for electric equipment, such as scissor lifts, and dock loading ability.
A Snorkel E-Z Loader EZ12 will be shown on the booth at CRA Rental Rally, with a bed capacity of 12,000 lbs., a 8,000 lbs. dove tail capacity, and a 5,000 lbs. tow capacity. Alongside the E-Z Loader, Snorkel will be showing rental-popular models from its range, including the award-winning TM16E telescopic mast lift, the A38E articulated boom lift, and the 460SJ telescopic boom lift.
Win a Snorkel S3010P Scissor Lift at CRA Rental Rally 2020
The Snorkel S3010P push-around mini scissor lift will be featured on the Snorkel booth. Designed for low-level construction and facilities maintenance applications, the S3010P is an innovative push-around mini scissor lift, which provides a cost-effective way to safely work at low level heights indoors. Designed to withstand the demands of construction sites and the rental industry, the Snorkel S3010P is a heavy-duty and robust mini scissor lift, which is easy to use and simple to maintain. The S3010P can lift 430 lbs. to a working height of 15 ft. 10 in.
Snorkel's push-around electric scissor lifts are loaded with standard features including an auto brake system, tilt sensor, battery charge indicator, saloon gates, forklift pockets, emergency lowering, non-marking casters, and slide-out service trays for easy maintenance.
Snorkel is giving rental companies visiting the CRA Rental Rally 2020 the chance to enter a prize drawing to win a Snorkel S3010P*. Visitors simply need to drop their business card into the entry box on the Snorkel booth #708 before 12 noon on Wednesday, 22nd January 2020. The prize draw will take place on the CRA booth at 1:45pm on Wednesday, 22nd January 2020. Entrants must be present at the drawing to win. *Terms and conditions apply, full details available on request.