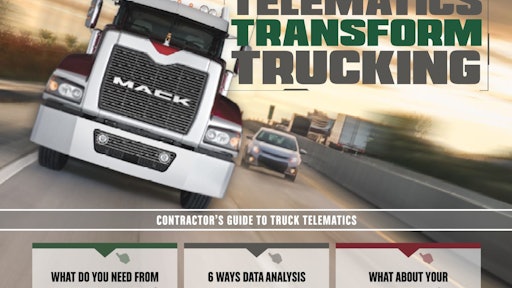 Modern trucks with electronic engines and integrated powertrains, in conjunction with GPS technology, are generating a wealth of data that could dramatically change the competitive landscape.
"Data is transforming the way businesses of all sizes make decisions that improve efficiency, productivity, customer service and ultimately profitability," says Chris Ransom, associate director of solutions engineering at Verizon Connect. "Whether you have a vocational fleet of dump trucks or mixers, telematics data helps increase productivity for the fleet."
[SPONSORED] Increase profitability and efficiency with your fleet now with a free fleet management system demo >>
Perhaps no technology is having a greater impact on vocational truck fleets as the utilization of telematics data. "More vocational trucks are starting to have telematics systems installed from the plant or in the aftermarket," says Jason Krajewski, director of connectivity, Daimler Trucks North America. "Customers are starting to look for places where they can get more productivity out of the trucks." The challenge is to identify actionable information that has a meaningful impact on your business.
In today's world, information provides a competitive advantage. "Telematics data is used to drive fleet efficiency based off the insight it provides on asset location, vehicle/fuel usage, driver behavior, maintenance, time on site, idle times and routing," says Oswaldo Flores, product manager, Teletrac Navman. "By analyzing this data and its impact on efficiency and productivity, managers can make informed decisions to improve operations and the bottom line."
Telematics-driven software is the key to unlocking the potential of the data. "The software helps a fleet to work smarter, not harder, by aiding managers in organizing drivers and operators, improving asset utilization and eliminating paperwork so more can be accomplished with less," says Ransom. "It also increases efficiency by the technology identifying and correcting fuel-wasting habits, such as poor route planning, unnecessary idling, speeding and aggressive driving."
Learn more in the interactive guide at www.FCP.news/TruckTelematics.