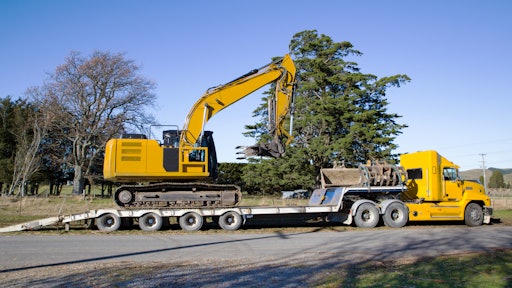 Getty Images
Pairing your Class 8 tractor with the most appropriate 25-ton or larger heavy equipment trailer can simplify moves between jobsites, while maximizing efficiency. But you should understand the advantages and disadvantages associated with each trailer type to determine which best fits your needs.
Low deck height eases loading
Detachables are the most popular trailers for hauling heavy construction equipment.
"The detachable trailer will give you the lowest deck height," says Jim Ladner, Landoll. For example, Landoll has introduced a line of detachables that feature a loaded deck height down to 17 in. "This is really important when hauling extra-tall equipment."
In fact, most tall, heavy equipment is well suited to transport on a lowboy. "The low deck keeps the center of gravity down and the equipment under the height restrictions of most states," Ladner points out.
Detachables are also designed to ease loading. "The low deck height and the fact that the deck is on the ground when detached... make a detachable trailer easier to load, especially for heavy, track-type equipment," says Rick Bivens, Transcraft & Benson Products.
"Double-drop detachable lowboys have a low load angle and a low loaded deck height so they can carry virtually any equipment," adds John DeGeorge, Eager Beaver Trailers.
The trailers are a good match for over-width machines or those requiring a low approach angle, as well as equipment that would have an overhead clearance issue on a single drop. "There are virtually no limitations as to what this trailer can haul, especially the newer designs with tapered main beams and multi-position ride heights," says DeGeorge.
The lack of usable deck space is the major disadvantage of a detachable lowboy. "If you have a three-axle wheel area on a 53-ft. trailer, you may only end up with 27 ft. of load space," notes Butch Odegaard, Trail King Industries.
"The lower deck length has always been the limiting factor for detachables," says Ladner. "Most trailers have 24- or 26-ft. load areas. It usually limits you to hauling one piece of equipment at a time."
However, there are now trailers with lower decks up to 32 ft. long. "This really adds to the flexibility for hauling more equipment on the detachable trailer," Ladner states.
Hydraulic or mechanical?
Detachable gooseneck lowboys come in hydraulic and mechanical versions.
Hydraulic models use hydraulic cylinders to lower the deck when attaching. "These trailers are more forgiving, since you can lower and lift the deck with the cylinders in the gooseneck," says Bivens.
"Most contractors go with a hydraulic detachable gooseneck," states Butch Odegaard, Trail King. "It is easy to load and you keep the center of gravity low to the ground. [All of the equipment] is getting tall and with the hydraulic detachable, you are running down the road with an 18- to 24-in. loaded deck height. So it keeps your overall height down."
DeGeorge agrees, noting, "Most of what we sell are the double-drop [hydraulic] detachables. They are so versatile."
This versatility can be further increased by adding a beavertail option. "We put a beavertail on the back and load over the rear, as well," says DeGeorge. This enhances the flexibility of the trailer in instances when you get in tight areas where it may be difficult to remove the gooseneck, or when you have multiple pieces of equipment. ?"ou may have an excavator loaded on the deck, and you may want to quickly run a backhoe up on the back and move two pieces of equipment."
A disadvantage of hydraulic detachables is weight. "They need a tractor that has a wet kit or a power pack kit that makes the trailer self contained, but adds weight to the tractor," says Bivens.
Mechanical goosenecks feature a couple different designs. There are models that can be attached by ramming a tractor into a trailer, and there are versions that require a winch to be mounted to the tractor.
One advantage is simplicity of design. "Mechanical goosenecks need no hydraulics on the tractor for operation, but could be harder to operate. They need to be blocked up, and on soft ground, they could settle," says Bivens.
Mechanical goosenecks without a winch have no easy way to hook up a trailer if it does sink in the soil. "With a hydraulic detachable, you have adjustment in the neck up or down to get the bed picked up," says Odegaard. "With a mechanical neck, you pull it off and block between the frame and the bottom of the gooseneck. If the bed changes when you load it, you can?t raise and lower the gooseneck to pick it up."
He adds, "You actually have frame rails on the truck and you use the truck to go under the neck and actually lift the load up. So it is a little bit harder on the driveline of the truck. You also have to make sure you are on a good surface where the trucks can get good traction to back up underneath it."
Even so, a mechanical detachable does have its place. They are well suited to over-the-road-type trucking companies, says Odegaard, where the loads tend to be on the trucks for a few days and they are loading and unloading on smooth, hard surfaces.
Room for more
With a sliding axle trailer, the axle hydraulically slides forward to lower the back of the bed to the ground. "No ramps are needed to load the trailer," says Bivens.
The major advantage of a sliding axle trailer is its load angle. "Load angle is very important when hauling many types of construction equipment that is low to the ground," says Ladner. "Pavers are a primary piece that require a 6° load angle." With the traveling axle trailer, you can load pavers without additional ramps. "The low load angle even adds a level of safety when loading equipment."
Odegaard agrees, adding, "It gives you a real gentle load angle for the low ground clearance items that you are trying to load, like scissor lifts and paving equipment. Because the whole deck is above the tires, you get maximum deck space. You get from the back of the gooseneck all the way over the wheel area. If you buy a 53-ft. trailer with a 10-ft. gooseneck, you have 43 ft. of deck space."
The traveling axle trailer provides the versatility to handle multiple pieces of equipment. "There is always a place for lowbed detachables, but the single-drop, ground loading, traveling axle trailer can haul 80% of the construction equipment without height restrictions," says Ladner.
Landoll's traveling axle trailer has a loaded deck height of about 3 ft. "A large variety of equipment can be hauled on the deck without going over the 13-ft. 6-in. height law," Ladner points out. "With the longer deck length, the traveling axle trailer can haul multiple pieces of equipment and become much more efficient than a lowbed. It hauls more equipment to the jobsite in one trip."
But there are disadvantages, as well, including weight and center of gravity. "There is quite a bit involved in building it," notes Odegaard. The undercarriage and suspension are basically built as a separate unit, then mounted to the mainframe on a trailer. "Because of the moving parts, it is a little heavy. So it is not a real good trailer for permitted loads."
Since the entire deck is above the wheels, the deck height also sits higher than a typical lowboy trailer. "Depending upon the tire size that you put on it, you are somewhere between 37 and 40 in. in deck height," says Odegaard.
Beavertails prove economical
"The advantage of the beavertail-style trailer basically is price," says Odegaard. "It is usually the real price-conscious person and probably one who isn't going to use it day in and day out."
Beavertails with manual ramps are simple and versatile. "They are simple to operate with no hydraulics involved," says Bivens. "With the Transcraft level deck ramps, you can also use the trailer to haul flatbed loads when not hauling equipment."
However, the manual ramps on beavertails are not always user friendly. "If you are on soft ground and drive on the ramp, it pushes the ramp into the ground," says Odegaard. "To get the ramp up and folded over, it puts a lot of strain on the back. When you are dealing in trailers that can haul 70,000 to 80,000 lbs., the ramp is built pretty heavy to withstand the load. So it gets to be pretty heavy and hard for one person to handle."
"If you go with the ladder ramps that have steel crossbars on them, they can get pretty heavy where you may need two people to lift them," says DeGeorge. "Up to the 50-ton range, it is not a problem. One person can lift them. But once you start getting up into a 70-ton trailer, the ramps are pretty heavy duty; they are taking a lot more weight."
Beavertails can also have a steeper angle of approach because you have to go over the tires. "You can double drop the trailer, but you are getting the [center of gravity] of the load pretty high until you get down into the belly of the trailer," says Odegaard.
"The deck height is typically higher than a detachable lowboy, so " agrees Bivens.
Still, the deck height of a fixed-neck beavertail can be an advantage in certain conditions. If you're going to take the trailer into some really rough terrain, notes DeGeorge, the fixed neck with a beavertail can offer up to 20 in. of ground clearance under the frame.
Folding goosenecks suit low angles
Folding goosenecks come in hydraulic or mechanical configurations. The mechanical configurations require a big winch on the truck.
"We sell very few mechanical folders - most of them are hydraulic," says Odegaard. "Asphalt contractors like [hydraulic models] because you can lay the neck down. You have a gentle slope to walk up onto the bed of the trailer. You can also pick the neck up with the hydraulics and pick the bed off the ground."
Folding goosenecks are especially suited to equipment requiring low load approach angles. "At one time, folding goosenecks offered the lowest load angle for a double-drop lowboy," says DeGeorge.
However, this is no longer the case. "Nowadays, self-lifting hydraulic detachable lowboys are being built with tapered main beams and also offer superb load angles. Plus, with multiple ride heights, they can be pulled with any tractor," says DeGeorge.
Complexity can be an issue with a folding gooseneck, since it adds to the owning and operating costs. "The disadvantage of a folder is they are a little heavier than the detachable and they are a little more costly because there is more involved in the neck," says Odegaard.
"Lots of pins and linkages equate to higher maintenance costs," adds DeGeorge.
Companies in this article