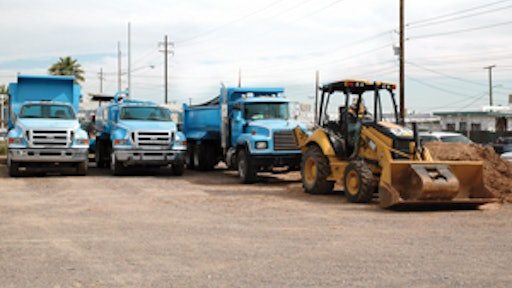 With late-model heavy-duty dump trucks ranging in price from around $120,000 to over $200,000, depending upon the configuration, you should spend some time running the numbers before making a purchase decision. How much is that truck going to cost in a typical 2,000-hour work year? Loan payments, the driver, insurance, maintenance, downtime for repairs, etc., all need to be factored into the hourly cost.
Yet, many contractors have determined that truck ownership is still preferable to outsourcing trucking services. One such contractor is Phoenix, AZ-based Southwest Trucking & Grading. This well-established excavation business was purchased by the current management team two years ago. "There are a great group of guys who are very skilled," says Brandon Rasmussen, general manager. A couple of the operators have been with the company for about 15 years.
Although it does have a general engineering license, the company concentrates on commercial grading projects. It often performs as a general contractor, subbing out specialized tasks such as paving.
The equipment fleet consists of four skip loaders, three backhoes, a motor grader, a wheel loader, four dump trucks, a water truck and a bobtail. "We rent a lot of equipment as needed," adds Rasmussen.
The dump trucks are Mack RD models with a 10-wheel configuration, while the bobtail and water truck are Ford F-750s. Despite the overhead, ownership of the trucks plays a key role in the company's success.
"There is a big advantage in the fact that you can control when your guys are there and when they are not," says Rasmussen. "Sometimes when you outsource trucking, you have a problem because people don't show up or they have problems - the trucks break down. When you are using your own trucks, you have the ability to maintain them. You can make sure they are in working order and that they don't have problems with DOT [inspections]."
You can also ensure you have qualified drivers on the job. "We try to have at least five years experience, because they are our trucks and I want to make sure the guys running them aren't going to tear them up," says Rasmussen.
"The bigger companies that lease out trucks hire right out of the schools," he points out. "A lot of those drivers just don't have the experience. They make little mistakes that a guy who has been in a dump truck five to 10 years doesn't make."
Ownership also provides the flexibility to periodically take on smaller projects. Because the main equipment operators have a Class 8 license, a single operator can tackle a small job with a piece of equipment and a dump truck.
For instance, one of the company's best customers often has small jobs that need to be finished up, such as hauling off a couple of loads and completing the finish grade. "I will just do a combo rate and send a truck and a backhoe or [skip loader] down there and we will take care of the job for them," says Rasmussen. "They don't need their guy and their piece of equipment standing down there."
Configured for the task
Owning its dump trucks allows Southwest Trucking & Grading to custom tailor them to the application, as well.
In the Phoenix market, Super 16 dump truck configurations are popular because they allow maximum payload with local regulations. But they are not the best fit for every application.
According to Rasmussen, the Super 16s are higher maintenance because of the lift axles. He also feels the 10-wheel configuration has advantages in the company's applications. He cites a recent job at the Phoenix convention center that had weight restrictions. "They didn't want Super 16s; they wanted 10-wheelers down there," he points out.
And since the company performs site demo and hauls broken concrete and asphalt, the sturdy steel dump bodies have been a real benefit. "I have seen holes torn completely through aluminum beds with concrete," says Rasmussen.
As Southwest Trucking & Grading continues to evolve, however, so does its trucking needs. Right now, it is expanding from hourly work to bid contracts. "We will probably add one or two Super 16s when we start doing a lot more bid contracts," Rasmussen comments.
Compare costs
The cost of ownership vs. outsourcing depends on your particular situation. "Right now, it is probably fairly close to lease them rather than have your own trucks," Rasmussen acknowledges. As such, Southwest Trucking & Grading keeps a core fleet of dump trucks and supplements it with outsourced trucking during times of peak demand.
The company is careful not to purchase more trucks than it can keep busy at any given time. "I don't think I would take our fleet to a huge quantity of trucks, just because you can get trucking outsourced so cheap, as long as you have one of your own trucks there to maintain a group of guys," Rasmussen states. "Right now, it is pretty cheap to lease trucks and it is getting more expensive to run them. But there is a big advantage [to owning] them, because when you need them, you know they are there."
Prices for dump truck services in the Phoenix market can vary. "It is roughly between $65 and $75 an hour," says Rasmussen. "You get owner/operators who don't understand their costs so they come in at $55 or $60 an hour, but they are not reliable. I get a lot of calls from them, but you can't rely on them if you need them." To ensure continuity of service, Southwest Trucking & Grading uses preferred vendors when it leases trucking services to meet fluctuations in workload.
However, the company is careful to keep its options open in order to secure the most competitive rates. For example, it will sometimes rely on the quarries to truck materials to jobsites. "Once in a while, it is hard to beat the quarry prices," Rasmussen admits. "It is actually cheaper to have them haul it to me than to haul it myself."