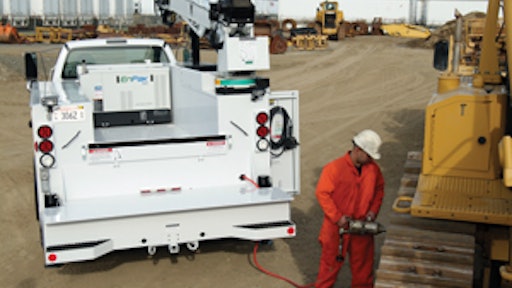 Mechanics trucks typically idle while technicians use the hydraulic crane, air tools and generator to make necessary repairs. This can put added wear on a truck's engine, transmission, power take-off (PTO) and exhaust aftertreatment system. In addition, it may not be the most fuel-efficient method to power the crane and tools.
Miller Electric addresses these issues with the EnPak Mechanic Series, an integrated diesel engine-driven compressor, generator and hydraulic pump.
The EnPak's rotary screw air compressor is rated at 40 cfm at 100 psi with a 175-psi maximum. This eliminates the need to stop working while you wait for pressure to build. Hydraulic power is provided by an Eaton variable-displacement piston pump. It provides a rated 3,000 psi at 8.5 gpm (up to 20 gpm maximum) for smooth operation of the crane.
The generator produces 6,000 watts of single-phase power, enough for most popular inverter welders and other power tools. Power is supplied through 120/240-volt receptacles at the back of the truck. The optional EnVerter power offers 2,400 watts of pure sine wave 120-volt power - regardless of the overall load placed on the EnPak - to run everything from laptops to lights and microwaves.
The unit can be mounted as a side pack or in the load space, and is integrated into the truck for ease of use. Its 27-hp Kubota diesel engine shares the truck's fuel supply. The EnPak also uses the truck's 12-volt battery, and even provides 12 volts of power and a 60-amp charge to the battery to ensure peak performance and extended life.
A remote panel, which can be mounted anywhere on the truck, operates and provides diagnostics for the engine and air compressor.
Intelligent design
Having its own engine eliminates the need for a PTO, and lets technicians run the air compressor, hydraulic crane and electrically powered tools with the truck turned off. Real-time load monitoring automatically matches engine speed to the load requirements. This results in fuel savings, since engine speed only ramps up to the levels needed to perform the task, then falls back to idle when you're done.
"EnPak allows mechanics to work more efficiently, while reducing many of the high-cost elements of a mechanics truck - fuel use and engine wear," says Rick Beeson, director of business development, Power Products Group at Miller Electric. "Eliminating the PTO and integrating EnPak directly into the truck's electrical and fuel systems reduces fuel use as much as 30% and truck engine hours by up to 60%."
Tools can be operated simultaneously without any drop in performance. A technician can weld on one side while another grinds or uses an impact wrench on the other side, with no lag in power.
A further benefit is a reduction in workplace noise by as much as 10 dB. "The reduced sound levels and exhaust create a more operator-friendly environment for the mechanic who spends all day working behind the truck," Beeson points out.
Such potential benefits were apparent during early testing.
"The best feature of the EnPak is that my truck no longer has to idle on the jobsite to allow me to run my tools," says Carlos Pineda, heavy equipment service technician, Peterson Tractor Co. "With the EnPak running on its own, I have less fuel usage and less hours being put on my truck. I also like that the air compressor gives me air on demand. I can run my big, heavy air guns and not have to wait for air to build up like the old system. It's very productive."
Companies in this article