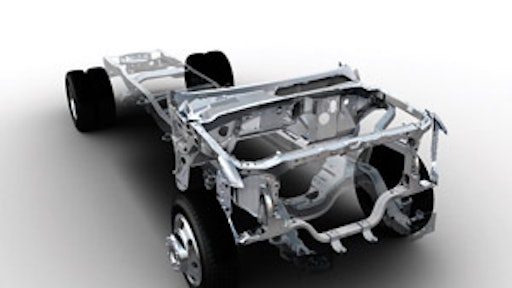 The competition to win your business is really heating up. In the last couple of months, Toyota introduced its Tundra and General Motors totally revamped its GMC Sierra 1500 and Chevrolet Silverado 1500 pickups. Now, we have test driven the new Ford Super Duty, and the Chevrolet Silverado 2500/3500 and GMC Sierra 2500/3500 pickups. In addition, DaimlerChrysler has announced that Dodge will enter a new segment of the market with its Ram 4500/5500 trucks.
Ford increases capacity
Ford adds more capacity to its line with the introduction of the F-450 Super Duty pickups. These trucks have their own unique chassis that allows for increased capabilities. Towing capacity has been increased from 19,200 lbs. on the previous F-350 to more than 24,000 lbs. for the F-450. Payload capacity has grown from 5,800 to more than 6,120 lbs.
Since Ford claims that more than 90% of Super Duty customers tow, the diesel powerplant is an important option. The previous 6.0-liter diesel Power Stroke engine has been replaced in the line-up by a totally new 6.4-liter model. This powerplant pumps out 350 hp at 3,000 rpm and 650 lb.-ft. of torque at 2,000 rpm. Engine response and low-end performance has been improved with series sequential turbochargers.
Ford also continues to offer the 5.4-liter Triton V-8, which produces 300 hp at 5,000 rpm and 365 lb.-ft. at 3,750 rpm; as well as the 6.8-liter Triton V-10, which produces 363 hp at 4,750 rpm and 457 lb.-ft. at 3,250 rpm. Transmission choices include a six-speed manual or a TorqShift five-speed automatic.
This year also sees refinement to the suspension. The leaf-spring rear suspension features 8-in. longer springs that attach farther forward on the frame for enhanced balance and better control.
Ford also introduces some innovative features on the new vehicles. A Tailgate Step is integrated into the tailgate when not in use. This steel step pulls out from the top edge of the tailgate and folds down. A pole folds up from the tailgate and serves as a grab handle to provide extra support. The tailgate also includes a non-slip walking surface.
A stowable bed extender folds and snaps securely to the sides of the bed when not needed. Made of blow-molded polypropylene, the impact- and corrosion-resistant cage withstands up to 1,000 lbs. of static pressure.
PowerScope power-fold / power-telescoping mirrors are integrated into the vehicle's seat position. The mirrors can extend outward up to 2.75 in. They consist of a power adjustable main mirror with a manually adjusted spotter mirror. Features include heated glass, clearance lamps and integrated turn signals.
GM refines heavy-duty pickups
First, General Motors unveiled the Chevrolet Silverado and GMC Sierra light-duty pickups. Now, the company is rolling out its 2007 Chevrolet Silverado and GMC Sierra 2500HD 3/4-ton and 3500HD 1-ton heavy-duty models. Exterior designs differentiate these pickups from the light-duty versions.
The tolerances on the body have been tightened for reduced body gaps, including a 50% tighter gap between cab and box. The windshield has been made more aerodynamic with a 57° windshield angle. There are also new 170° opening rear access doors on extended cab models.
A broad range of configurations includes three cab styles, three cargo box styles and five wheelbase lengths. The 3500HD models are available with a dually rear wheel configuration. The pickup boxes have also been redesigned with a one-piece wheelhouse and inner box side for added strength. The boxes are 1.18 in. deeper in the front and 1.57 in. deeper at the rear. Dually cargo boxes are all steel, including hydroformed sheet metal outer fenders.
A cargo management system is available on all Silverado and Sierra models and is complemented by a range of dealer-ordered accessory packages. Three rails run the length of the box sides and the forward box wall. The rails enable the use of an overhead utility rack rated at a 500-lb. load capacity, a sliding diamond plate toolbox, a sliding bed divider or diamond plate side storage boxes.
A new Gen-IV 6.0-liter gasoline V-8 engine with variable valve timing is rated at 353 hp and 373 lb.-ft. of torque. It is paired with a new Hydra-Matic six-speed automatic transmission. At 18,500 lbs., this combination offers a higher gross combined weight rating than previous gas powertrains.
A more powerful Duramax 6.6-liter turbo-diesel has ratings increased to 365 hp and 660 lb.-ft. of torque. It is partnered with the 1000 Series Allison six-speed automatic transmission, which features a range selection feature that allows the driver to select the desired gears to match driving conditions, such as towing a trailer on a steep grade.
A stronger ladder design frame allows the use of a larger 2.5-in. trailer hitch receiver platform. This enables the trucks to pull a maximum of 13,000 lbs. with conventional trailers. Trucks with fifth-wheel hitches can tow up to 16,700 lbs. when properly equipped.
Two suspension packages are offered. The Z85 suspension is standard. The optional Z71 off-road suspension includes additional chassis and suspension equipment, including skid plates.
Dodge enters new territory
Dodge enters the Class 4 and 5 market segments with the 2008 Ram 4500 and 5500 chassis cabs. These trucks feature industry standard 34-in. frame rail spacing. The frame rail itself is a one-piece C-channel made of 50,000-psi steel. All chassis components are below the frame surface.
The trucks will come in 60-, 84-, 108- and 120-in. cab-axle lengths. This includes 4x2, 4x4, dual-rear-wheel, regular and Quad cab models.
Power is derived from a standard 6.7-liter Cummins turbo-diesel engine that generates 305 hp at 3,000 rpm and 610 lb.-ft. of torque at 1,600 rpm. It also has a claimed life-to-major overhaul interval of 350,000 miles.
Transmission options include a six-speed automatic or manual transmission, both with PTO capability. An electronic shift transfer case is available, while a factory-installed exhaust brake is standard. Four-wheel disc brakes with 390mm rotors and 66mm caliper pistons work with the standard anti-lock braking system to keep loads under control.
Aiding productivity is a 52-gal. fuel tank. An optional mid-ship fuel tank frees up more space behind the rear axle for special upfit applications.
These new product offerings position Dodge to take advantage of the growth in the Class 4 and 5 market segments. Industry forecasts for these chassis cabs were 140,000 units in 2006. This is expected to grow to 156,000 units by 2012.