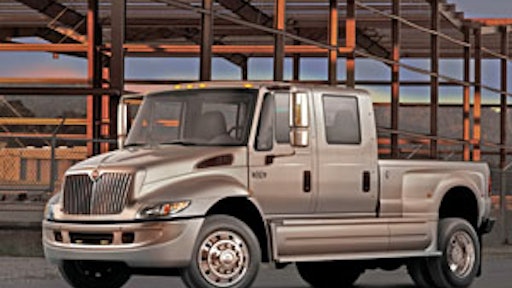 The powerplants in today's pickups often provide the power to pull heavily-laden equipment trailers. But just because you have the power to get the load rolling doesn't mean you should. A lot of trucks can pull the weight, but control of that load is also very important, says Elliott Benson, marketing manager for the Kodiak and TopKick C4500, General Motors.
Manufacturers publish Gross Vehicle Weight Ratings (GVWRs) and Gross Combination Weight Ratings (GCWRs) to ensure you can maintain adequate control of the trailer being towed. The combined weight of the trailer, load on the trailer, truck, cargo in the truck and passengers should never exceed the GCWR.
Besides adhering to the manufacturers' ratings, selecting the right options and features provides an extra measure of control. For example, Ford offers a TowCommand System that provides a combination of standard and optional features, such as a TorqShift transmission with a tow-haul mode, adjustable trailer towing mirrors and a factory-installed trailer brake controller.
"The TowCommand package was designed to provide maximum control," says Phil O'Connor, F-Series Super Duty marketing manager. This package is available across the whole Super Duty line.
According to O'Connor, there are significant advantages to Ford's integrated trailer brake controller vs. an aftermarket trailer brake controller. "It is integrated into all of the electronic systems of the truck. The first advantage customers notice immediately is that is offers proportional braking," he explains. "The trailer brake controller is tied to the master cylinder and it knows exactly how much pressure that you put on the brake pedal. It applies that amount of pressure to the trailer brakes. You have very smooth operation of the entire system - the truck and trailer combined. They brake at the same rate."
This eliminates the jerky operation associated with most aftermarket trailer brake controllers, which essentially work in an on/off mode rather than a proportional mode. Those aftermarket controllers can get pretty jerky at slow speeds.
"Another advantage is that it is tied into the anti-lock brake system of the truck," says O'Connor. While trailers with electric brakes do not have the anti-lock option, this feature still enhances control. "Our trailer brake controller knows immediately when the truck goes into an anti-lock braking event and it reduces the amount of voltage to the trailer brakes." This prevents jackknifing and allows you to maintain control of the trailer. "The truck and trailer are working together as one unit."
The tow-haul mode feature is an important towing option offered by many manufacturers. "It is a very complex algorithm in the transmission's computer," says O'Connor. "It changes the shift patterns to optimize for towing and hauling. It also gives you engine braking. If you are going down a hill, it will sense that and it will downshift to provide engine braking so that you can save your brakes."
1-ton truck options
When it comes to 1-ton pickups and chassis cabs, most manufacturers offer a choice of single or dual rear wheels. The dual rear wheel option increases the towing capacity of the trucks.
"There are not really any disadvantages to using a dual rear wheel truck for towing," says O'Connor. "The reason that most customers move to a dual rear wheel truck is because they are towing a fifth-wheel trailer. They generally have a higher tongue weight, so they put quite a bit of pressure on the back of the truck. The dual rear wheels also provide an additional level of stability for those heavy trailers.
"We have customers who tow on a regular basis with our single rear wheel trucks," O'Connor notes. "There is no problem in doing that. But when you get into those really heavy trailers, having that wider stance in the back provides an additional level of stability."
The only disadvantages to dual rear wheel drive appear when you are not pulling a trailer. "It's arguably easier to maneuver a single rear wheel truck because of the width," says O'Connor. "And generally a single rear wheel truck might ride a little better if it is unloaded."
In addition, Ford has created a TowBoss Package for its 1-ton truck, the F350. "Basically, we married a 4.10 limited-slip rear axle to our diesel TorqShift transmission combination," says O'Connor. "We went out and tested the truck and were able to certify the trailer rating up to 19,200 lbs. For customers with the largest trailers, that is the package that I would suggest."
Medium-duty pulls large loads
In some applications, the loads being pulled are increasing, and more people are making a shift to medium-duty trucks. "The trailers are getting bigger and heavier and the traditional pickup is limited in its capability," says Bill Sixsmith, International Truck and Engine Corp. "I think they are seeing that a medium-duty truck is a better way to go."
The weight of the load obviously influences the decision to step up to a larger truck. "What does it cost you in cents per mile to move that payload?" asks Steve Matsil, chief engineer, medium-duty commercial trucks and rear wheel drive vans, General Motors. "If you are using a smaller vehicle, you may be working harder. You may be into the throttle a little more based on the gear ratios."
Life of the truck has a major impact on the overall cost. "When you think of a commercial truck, it is set to higher standards than your light-duty trucks," explains Sixsmith.
In the most severe applications a regular pickup may wear out in a couple of years. "They either buy a new one or they have learned their lesson and they go to the higher capacity medium-duty trucks," says Sixsmith. "You have higher lifespan of the components. Instead of the 300,000 miles you may put on a medium-duty truck, with a pickup, you are only thinking in terms of 100,000 miles."
The cost may also be affected by tire wear. A larger truck may have a larger contact patch with the road. "With more rubber on the road, the load per square inch is lower, so the wear rate may be lower," says Matsil.
Medium-duty pickups also offer larger brakes and 19.5-in. wheels vs. the smaller brakes and 16- or 17-in. wheels typical on a pickup.
For the C4500, General Motors actually used a Class 5 chassis in a Class 4 vehicle. The base truck has a 16,000-lb. GVW and up to 26,000-lb. GCWR. "Most people are optioning up to a 16,500- or 17,500-lb. GVW," says Benson. "We say that you can get Class 5 capability for the price of a Class 4 truck."
The base C4500 with the 60-in. CA and gas engine can actually be competitive with 1-ton pickups. "It is just under $30,000," says Benson. "The comment we get back is that you can get into the C4500 for pretty much the same price as a 1-ton pickup, and it is a lot more truck."
The frames of the medium-duty trucks are much heavier than found in pickups. Consider GM's Kodiak/TopKick C4500. "The frame strength is 80,000 psi vs. 36,000 psi, which is a typical frame strength for a lighter duty truck," says Benson.
But customer perceptions often have to be changed for them to consider stepping up to a medium-duty truck. They can be intimidated by the size.
"But once you get in and drive it, you realize that the C4500 handles just like a light-duty vehicle," says Benson. "It has excellent maneuverability with a 53° wheel cut on the front wheels. With our shortest wheelbase of 128 in. and a 60-in. CA, this truck has a turning diameter of 38.4 ft. That's down there with mid-size cars in terms of capability." Of course longer wheelbases will increase the turning diameter.
Cab height is also an advantage for towing with medium-duty trucks. "You sit a little taller than the pickup does, so you have a slightly better command of the road," says Matsil.
International Trucks offers the 4000 Series and its new RXT medium-duty pickup to fill the towing niche. While its larger sibling, the CXT pickup, is based on a 7000 Series chassis, the RXT is built on a 4000 Series chassis. The 4000 Series goes down to 19,500 lbs. GVW while the RXT is under 25,000 lbs. GVW.
"We think the RXT has more of a play for the type of customer that is looking to haul heavy loads or trailers," says Sixsmith. This 5-ton, 22-ft.-long commercial pickup draws power from an International VT 365 V8 diesel with 230 hp and 540 lb.-ft. of torque. It also uses an Allison 2000 Series transmission vs. the 1000 Series commonly found on pickups.
Medium-duty also offers stability
The track width and wheelbase of the truck influences the stability when pulling a trailer. Consider the wide stance of International's RXT. "You have a longer wheelbase and you have a wider track than you do with a normal pickup, so you have a more stable platform," says Sixsmith. "Ours are fully 86 in. [wide]."
General Motors also touts the increased stability of its medium-duty trucks. "From a handling standpoint, we expect our vehicle has a larger footprint in terms of tires and axle track widths," says Matsil. "It is a little more surefooted."
In addition, frame height is better suited to larger trailers. "If you are trying to pull a trailer that has 19.5-in. wheels and you are using a pickup with 16- or 17-in. wheels, you may have a mismatch there in terms of frame height," says Matsil.
The correct choice
It is impossible to choose an ideal towing spec for any given truck. "That is because the way that our customers use these trucks varies infinitely," says O'Connor. "Some customers will tow different types of trailers with the same truck. There are different road conditions, off road and hills."
That's why there are so many choices in the market. There is not one solution that will fit everyone's needs. Simply research what options are available and make an informed decision based on the facts, not perception.