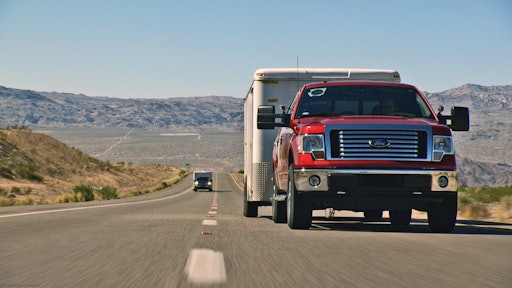 Manufacturers are pulling out all the stops to increase half-ton pickup trucks' fuel economy without sacrificing performance.
Half-Ton 4x4 Pickup Fuel Economy
They've introduced new engine platforms with fuel-saving technology innovations; more-aerodynamic chassis with passive and active aerodynamic devices; multi-speed transmissions; weight-saving materials; and electric accessories such as power-steering pumps to reduce parasitic engine loads.
GM's 2014 Silverado and Sierra 1500 Top V8 Pickup Truck Fuel Economy, Towing Capacity
Pick your power
New engine offerings in the half-ton pickup-truck market are a radical departure from previous generations. Turbocharging, cylinder deactivation, variable valve timing and direct injection are all becoming commonplace as pickup manufacturers strive to boost fuel economy. There is more than one way to squeeze extra efficiency out of the engine.
Ford offers a 3.7-liter V6 and a 5.0-liter V8 that both offer twin independent variable camshaft timing (Ti-VCT). Precise, variable timing of both intake and exhaust camshafts optimizes power, performance and fuel economy. Raw power buyers can also choose a 6.2-liter V8.
But the engine choice leading the charge for Ford's half-ton pickups is the 3.5-liter EcoBoost V6. Its 365 hp and and 420 lb.-ft. of torque is comparable to a naturally aspirated V8's power, but it manages fuel economy of 16 city/22 highway miles per gallon.
F-150 V6 EcoBoost Matches Super Duty V8 Towing Capacity
EcoBoost is a cornerstone of Ford's strategy to provide high-output, smaller-displacement powertrains that optimize both performance and fuel economy. Direct fuel injection and turbocharging are used to increase power form the smaller engine displacement while extending fuel economy up to 20 percent and reducing CO2 emissions up to 15 percent compared to larger engines of comparable power. It also uses independently variable camshaft timing. The EcoBoost engine in the F-150 supplies up to 90 percent of peak torque in the speed range from 1,700 to 5,000 rpm.
Ram Trucks and General Motors also use variable valve timing, but Ford's competitors have chosen cylinder deactivation to reduce working displacement when operating conditions allow improved fuel economy.
Ram's 1500-Series pickups are available with the either a 3.6-liter Pentastar V6, or a 5.7-liter HEMI V8 with Fuel Saver Technology (cylinder deactivation).
General Motors calls its cylinder-shut-off technology Active Fuel Management. It is standard on all available engine platforms for the 1500 Chevrolet Silverado and GMC Sierra pickups, allowing the V8 and V6 engines to switch to V4 operation.
Video: How GM Turns a V8 into a Four-Cylinder
General Motors' first hood-to-hitch rework of its 1500 Series pickup trucks in several years delivers an all new set of EcoTec3 engines based on the proven small-block design — the standard 4.3-liter V6 and optional 5.3-liter V8 and 6.2-liter V8.
"The EcoTech3 denotes the three technologies that we worked to integrate in order to optimize our efficiency and performance," says Sheryl Balsley, assistant chief engineer, small block truck engines, GM Powertrain. "This family of engines has a direct-injection fuel system, active fuel management and variable valve timing."
Active Fuel Management allows the pickups to seamlessly switch to run on four cylinders during light-load driving to save fuel. The technology is torque based.
 "When you put your foot in the pedal, you are demanding a certain level of torque," says Balsley. "If the engine is in a range where we have enough torque, we will maintain four-cylinder mode; if you need additional torque, we will go to the V6 or V8 mode."
These technologies will be standard on every Silverado and Sierra and work together to precisely control the burning of fuel in the cylinders.
Ram to Bring Diesel to its Half-Ton Pickups in 2013
More transmission speeds
The days of the four-speed automatic transmission are gone for good. To increase performance and fuel economy, you need more gears. New transmissions are integrated with the engine through elaborate software that matches shift points for best performance and fuel economy.
Not only are today's half-ton pickups coming standard with six-speed automatic transmissions, but Ford and General Motors also just entered an agreement to jointly develop a new generation of nine- and ten-speed transmissions for cars, crossovers, SUVs and trucks. Collaboration enables both automakers to design, develop, engineer, test, validate and deliver new transmissions faster and at lower cost than if each company worked independently.
"Engineering teams from GM and Ford have already started initial design work on these new transmissions," said Jim Lanzon, GM vice president of global transmission engineering. "We expect these new transmissions to raise the standard of technology, performance and quality for our customers, while helping drive fuel economy improvements."
The joint-development agreement marks the third time in the past decade that GM and Ford have collaborated on transmissions. As before, both companies will manufacture transmissions in their own plants with many common components.
"The goal is to keep hardware identical in the Ford and GM transmissions. This will maximize parts commonality and give both companies economy of scale," says Craig Renneker, Ford's chief driveline engineer. "However, we will use our own control software to ensure that each transmission is carefully matched to the individual brand-specific vehicle DNA for each company."
Currently, Ford, General Motors and Ram Trucks offer six-speed transmissions, while Ram Trucks unveiled an optional eight-speed electronic transmission with the 2013 Ram 1500. The Pentastar V6 and eight-speed TorqueFlite 8 transmission combine to deliver EPA 17 mpg city/25 mpg highway in two-wheel-drive models. The powertrain is a $1,000 option over the 5.7L V8 and six-speed transmission.
Tinkering with aerodynamics
Today's pickups have logged extensive wind-tunnel time to reduce drag.
"Aerodynamics is obviously an important input into fuel economy," says Jeff Luke, GM executive chief engineer, full-size and mid-size trucks.
Features such as front air dams and spoilers incorporated into tailgates may appear subtle, but they play an important role in reducing drag. For instance, on Ford pickups, the chamfered shape to the rear of the cab helps direct aerodynamic wake over the pickup box, and the top of the tailgate is shaped to work with the cab chamfer. Likewise, the front bumper valence and spoiler design combine to manage air flow under the truck.
"The shape of the [front] air deflector on the Chevrolet Silverado 1500 comes right from work we have done with the Corvette in the aero tunnel," Luke points out. Then there is the belly pan that keeps air flowing underneath. "You want to keep air flowing laminar so it does not become turbulent and drag." A plastic shield added to the center of the undercarriage helps.
Another common theme has been the slope of the front windshield. "We flattened the windshield [on the Chevrolet Silverado] by about 1°," says Luke. "That allows more air efficiency over the cab."
Chrysler integrated several technologies to improve the 2013 Ram 1500's aerodynamics, taking its 1500 pickup to an impressive .363 coefficient of drag.
A unique enabler is the Ram Active Level air suspension, which features five height settings for optimum ride and aerodynamic performance. It operates automatically, or may be controlled manually via console or key fob controls. Normal ride height is 8.7 in. of clearance as measured from the base of the door sill. Aero mode lowers the vehicle 0.6 in. to improve efficiency up to 1 percent. The truck's computer senses vehicle speed and adjusts ride height for optimal performance and fuel economy.
Active grille shutters restrict air flow through the huge grille when cooling is least needed. The system improves fuel economy by 0.5 percent by reducing drag roughly 3 percent to 5 percent and improves warm-up time and windshield defrost time. Coolant temperature and vehicle speed determine shutter position.
Ford has also incorporated active grille shutters on its Atlas concept truck, so don't be surprised if you see this feature on the next-generation F-150 or Super Duty.
GM has concentrated on aerodynamics, as well. Updated mirrors reduce turbulence; triple-sealed, inlaid doors; and roof and tailgate design all help air flow smoothly and quietly over the Silverado and Sierra. Additional sealing around the grille, headlights and space between the cab and box are also designed to reduce drag for the new trucks, along with new aerodynamic spats located in front of the rear wheels. Coefficient on the 2014 models is 5 percent less than what's on the road today.
Reduce parasitic loads
Electric power steering is taking over the industry as manufacturers search for fuel savings. Every half-ton truck from the U.S. makers -- except Ford's F-150 equipped with the 6.2-liter V8 -- has it.
An electric motor powering the truck's rack-and-pinion steering relieves the engine from the burden of turning a hydraulic pump, improving fuel efficiency up to 1.8 percent and leaving an extra 5 hp to turn the drive wheels. The motor can be tuned for more-consistent, crisp steering feel and plenty of assist for parking maneuvers.
Ram Trucks' electrical pulse-width modulation reduces parasitic loads from electrical components. Pulse-width modulation eliminates unnecessary load on the alternator and contributes to efficient  fuel delivery and forward cooling fan.
Another fuel-saving first in pickups is a stop-start feature on select 2013 Ram 1500s. The new system improves fuel economy up to 3.3 percent (adding about 1 mpg to the truck's city driving efficiency) by shutting the engine off when the truck comes to a complete stop. Accessories (radio, gauges, heating or air conditioning, etc.) continue to operate. The engine restarts automatically when the driver releases the brake, allowing seamless acceleration.
Design diet
Anything designers can do to reduce weight will result in lower fuel consumption.
To this end, aluminum hoods are a reality. The 2014 Chevrolet Silverado and GMC Sierra feature aluminum hoods that, were they rendered in steel, would weigh 37.5 lbs. more.
Frames have been getting stronger and lighter. The fully boxed structure underpining Chevy Silverado is one example.
"Our frames from 2013 to 2014 are about 15 kg (33 lbs.) less mass," says Luke, "But they are stronger."
Even powertrains have lost weight. For instance, head and block for the GM half-ton pickup engines options are all aluminum now.
Never before has so much effort been focused on squeezing economy out of a full-size truck. It's becoming a game of tenths of a mile per gallon, integrating many different technologies to significantly improve fuel economy.
Based on what we've already seen, it's hard to imagine what pickup engineers will think up next.