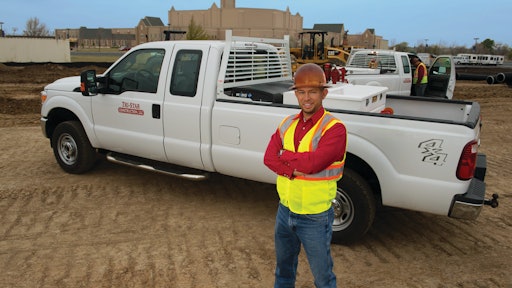 Tulsa, OK-based Tri-Star Construction is a civil construction company that performs road work, airport construction, earthwork and underground utilities. The company has been in business since 2004 and has an annual work volume around $10 to $12 million with 75 employees.
Tri-Star currently has 13 pickups on the road that are used by superintendents and foremen on the crews to run between jobsites and pull small equipment or haul tools. "My guys are driving anywhere from 35,000 to 45,000, or a little more, miles per year," says Mark Huff, president, Tri-Star Construction. Foremen and superintendents are allowed to take the trucks at home at night. "So they pretty much start in them and end their day in them."
The cost of running the pickups is significant. "I have been in business for 10 years and having 10 or 13 trucks around here we go through trucks quite often," says Huff. And when powered by gasoline, which was around $3.79 a gallon this fall, the costs add up.
Summit sparks idea
CNG is gaining momentum rapidly in Oklahoma. "Being here in Tulsa and Oklahoma in general, CNG is at the forefront of just about every newspaper and news article that you see," says Huff.
But what really set the wheels in motion was a CNG Summit that was held in Tulsa. "I went to that and was really impressed with what I saw and the savings that could be accomplished with it," says Huff. "I came back from that summit pretty ecstatic about what I had learned and what I wanted to learn. There is so much data out there on CNG that it didn't take us long to determine this was the path that we needed to be going down."
Huff continued to investigate CNG. "I got together with other owners who had already experienced CNG and they were all extremely happy. I got with my Tulsa Clean Cities coordinator here in Tulsa and talked to him about it. I found out about some rebates and tax incentives. It took off from there."
Tri-Star Construction started with a simple spreadsheet that included the miles driven, the number of gallons of gasoline used at $3.79 a gallon and what the cost would be if the cost was $.99 to $1.49 gasoline gallon equivalent with CNG. The current fuel price at many public CNG pumps is around $1.39 to $1.49 per gasoline gallon equivalent. "We could see real quick that is we did this we could see some very significant savings." In fact, the estimated savings were enough to nearly make the payments on the trucks.
Tax credits and rebates can make the decision even easier. "The Oklahoma tax credit is 50% the cost of the equipment," says Huff. And Oklahoma Natural Gas had a rebate at the time. "Just the tax credit and the rebate from Oklahoma Natural Gas was enough to pay for about 65% of the system in each truck. So the initial fear of $9,000 to $10,000 for the CNG system is reduced when you get 60% of it back."
The Conversion
Tri-Star has successfully replaced seven of its 13 pickup truck fleet with CNG. The first additions to the fleet were Ford F-250s with the Westport Wing system. These are bi-fuel trucks that were ordered through the local Ford dealer.
"I had about a six week wait on the first two," says Huff. "We knew within the first couple of weeks that we were going to save some money, so shortly after the first two arrived we called back and asked when can we get two more? Fortunately, he had two more already sitting there, so I took them too."
The rest of the fleet conversion is still taking place. "When we decided to start switching our fleet, I had new trucks and I had old trucks," says Huff. "The newer trucks that are in operation, I am not going to take those down and get rid of them as much as I would like to. So we got rid of our oldest trucks and purchased the new Ford Westport trucks."
He adds, "The ones that were remaining that had a lot of life in them, we decided to convert those. There are countless conversion shops here in Tulsa and around Oklahoma. The price is about the same, but the savings are also the same. Whether you convert one or purchase a new one, the tax credits, the rebates, the savings – that is all the same. So the trucks that were on the newer end, we decided to keep those and convert them to reap the benefits."
Drivers were trained how to dispense CNG. "One of my fears was getting these guys to go from pumping gas to dispensing CNG," shares Huff. "Actually it is a simple process. It is just as simple as pumping gas. Within 10 minutes anybody can know how to dispense CNG into a truck."
He explains, "The stations are so easy to work. You hook a nozzle to a truck. You turn it on and wait for it to fill. It is a little slower than gasoline. You may be able to pull up to a gasoline pump and get a full tank in five minutes. At a CNG station you may have to wait ten to fifteen minutes, depending upon which station you go to."
The station Tri-Star installed has improved efficiency. "Guys pull up to it, hook up, come in here and turn their paperwork in and spend ten to 15 minutes in the office and walk out to a full tank," says Huff.
He adds, "It has become commonplace for them now. Gasoline has been pushed to the back of their mind, which is the whole purpose of this. It is really a painless process getting them in the mindset to use CNG."
Fuel Accessibility
CNG accessibility has not been an issue for Tri-Star Construction. "Right now in Tulsa we have about ten stations that are operating," says Huff. Prior to installing its own station, the company relied on these fueling stations. "For six months we went without a station at our shop. For those six months our guys found all of those stations. They were pretty centrally located and the guys had no problem getting gas. They even surprised me in how easy they took to finding those stations and going to them and getting the CNG."
He adds, "Only once can I remember where we in an area where there wasn't CNG, but these trucks are bi-fuel trucks, so you have a full tank of gasoline on standby. If you run out of CNG you still have a full tank of gasoline and you can always run on gasoline until you can get to a station. But we cover a 200-mile radius around Tulsa and we have not had any problems with finding stations. Nobody has ever run out of CNG for more than a day or so."
Performance
Huff is sold on the benefits of the CNG trucks. "My personal truck is on CNG. I pull tractors and trailers. When I am running on CNG the power difference is so minor that is not enough to make me mad. Anybody who drives trucks enough and pulls things knows what I mean by that. If you have a truck that is underpowered, you will get angry at it."
He adds, "When I am not pulling a trailer or a piece of equipment, everything is normal. It is just like gas. You cannot tell the difference. You put a trailer on it with a piece of equipment and there is a slight difference. I would put it in the 5% range. It is so slight, it does not bother me at all."
"I have seven different superintendents in seven different trucks," says Huff. "They all live different distances from the job. Some drive farther during the day. The savings are different for each one. But on average, if I take all seven of them, we are saving between $600 and $750 per month versus gasoline." That is enough to make the truck payment.
Tri-Star is still trying to pin down the actual savings. "Bear in mind that we have only been on natural gas for about ten months," says Huff. "So we are still getting our hands around the savings. We know that we have cut. We can see our fuel bill. We are still trying to figure out exactly how much we have cut."
The return on investment is tracking at 13 months not factoring the rebates or tax incentives. "If you just look at how long it would take you to recoup the $9,000 to $10,000 in additional cost of the equipment at 40,000 miles, averaging about 12 to 13 mpg, you are looking at 13 months. But when you throw other incentives in it that are out there, it is not that long."
Tri-Star Construction typically runs its pickups for three to four years. "If it only takes me 13 months to pay back the cost of the equipment, we still run them for another two and a half or three years," says Huff.
As a business owner, savings are always a priority. "When you try to look into your overhead and see where you can cut $150,000, there's not too many places," says Huff. "Those costs are pretty constant. When you see something that you can cut by 40%, you should take advantage of it."
So far Tri-Star Construction has been unable to identify any downsides of switching to CNG. "Being the pessimistic business owner that I am, I am always wondering when the ball will drop," says Huff. "But that has not happened. In the ten months that I have been running these trucks I have not found the downside."