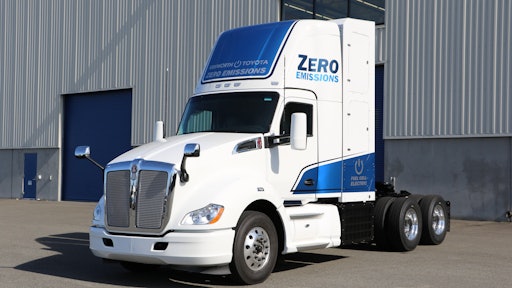 Kenworth and Toyota Motor North America are collaborating to develop 10 zero-emission Kenworth T680s powered by Toyota hydrogen fuel cell electric powertrains. 
The effort is part of a California Air Resources Board (CARB) $41 million Zero and Near-Zero Emissions Freight Facilities (ZANZEFF) grant, with the Port of Los Angeles as the prime applicant. CARB has awarded those funds to the Port of Los Angeles for the ZANZEFF project as part of California Climate Investments, a California initiative that puts billions of Cap-and-Trade dollars to work reducing greenhouse gas emissions, strengthening the economy and improving public health and the environment — particularly in disadvantaged communities.

"The Port of Los Angeles, Kenworth, Toyota and Shell are working together to foster the development of hydrogen fuel cell electric technology in Class 8 trucks, producing water as the only emissions byproduct, while meeting or exceeding diesel truck performance," said Kevin Baney, Kenworth general manager and PACCAR vice president. "The Kenworth T680 on-highway flagship offers superior fuel efficiency, performance and comfort, and serves as an excellent foundation to develop the hydrogen fuel cell electric powertrain."

So far, the Kenworth assembly plant in Renton, WA, has produced four hydrogen fuel cell electric vehicles (FCEVs) — with a fifth truck now in production. 
According to Patrick Dean, Kenworth chief engineer, Kenworth provides the T680 chassis and cab, motors, transmission, and cooling systems and delivers overall FCEV integration. Toyota provides fuel cell stacks, hydrogen tanks, load balancing batteries and other components necessary to deliver the high voltage to the motors, in addition to the controls for that power.
"Ensuring a great driver experience also has been a focus. Extensive performance testing and calibration work at both the PACCAR Technical Center in Mount Vernon, WA, and at the Toyota Arizona Proving Grounds will give drivers of this advanced FCEV powertrain optimal performance in the primary targeted port drayage application," said Dean. 

The program's first FCEV to enter real-world service will go to Toyota Logistics Services by year-end for operation at the Los Angeles ports. The full contingent of 10 FCEVs is expected to enter operation in the ports and Los Angeles basin 2020, and will be placed into service by UPS, Toyota Logistics, TTSI and Southern Counties Express.

"We're very excited about the collaboration with Toyota and we see many areas of complementary expertise. This joint effort is leading the industry in proving the feasibility of all aspects of hydrogen fuel cell powertrains applied to heavy duty Class 8 trucks," said Dean. "We especially appreciate the commitment of UPS, Toyota Logistics Services, TTSI and Southern Counties Express to participate in the real-world testing program at the Port of Los Angeles."
To meet customer needs in these drayage, car-carrier and local-haul applications, the vehicles will have ranges of over 300 miles under normal operating conditions. The T680s with the Toyota hydrogen fuel cell electric powertrain combine hydrogen gas and air to produce electricity. The electricity powers electric motors to move the trucks, while also charging the lithium-ion batteries to optimize performance as needed. Sophisticated power management systems will apportion the electrical power from the fuel cells to the motors, batteries, and other components, such as electrified power steering and brake air compressors.