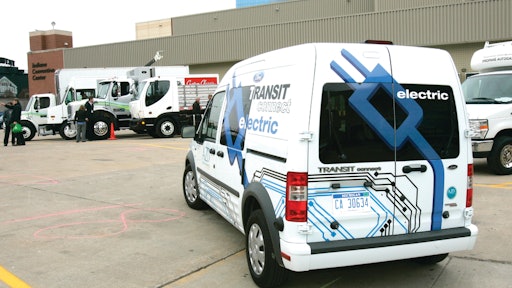 FARMINGTON HILLS, MI (October 17, 2011) — Registration is now open for what the National Truck Equipment Association calls "North America's largest work truck event," The Work Truck Show 2012. Register online at www.ntea.com to explore more than 500,000 square feet of new truck chassis, bodies, equipment and components from more than 550 exhibiting companies. Choose from more than 60 educational programs on industry topics. Sign up for the popular Green Truck Summit or Fleet Management Symposium. Take advantage of a unique opportunity to interact with thousands of industry peers, meet with suppliers, and get technical and engineering support for work trucks.
The Work Truck Show 2012 will be held at the Indiana Convention Center in Indianapolis, IN, March 6-8, 2012. Educational programming, including the Green Truck Summit and Fleet Management Symposium, begins March 5.
"The Work Truck Show is by far the best place to meet the leading manufacturers face-to-face and see all the latest solutions and technical innovations in our industry," says Frank Livas, NTEA convention chairman and senior vice president of Brake & Clutch, Inc. (Salem, MA).
The Work Truck Show 2012 showcases Class 1-­­8 trucks, components and specialized equipment from a diverse range of global manufacturers. Dozens of new products, including the latest vocational trucks, are launched at The Work Truck Show. In addition to expansive booths displaying new vehicles, 14 of the leading chassis manufacturers provide detailed updates on what's new and upcoming with their product lines.
Offered exclusively to fleet managers, the Fleet Management Symposium teaches methods to dramatically improve fleet and shop productivity while reducing costs. Led by consultant Kelly Walker, president of Kelly Walker Associates, (Morristown, NJ) and Bob Johnson, NTEA fleet relations director, the Fleet Management Symposium runs from 9 am to 4 pm, Monday, March 5, and 9 am to 12 pm on Tuesday, March 6. Advance registration is required.
Fleet managers are also invited to the exclusive training session and networking luncheon "Develop Your Fleet Manager's Tool Box" on Wednesday, March 7, from 11:30 am to 1:30 pm. Steve Saltzgiver, group director of fleet operations, Coca Cola Refreshments Inc. Fleet Operations (Atlanta, GA) will cover how to use technology solutions to gain greater insight into overall fleet performance. A ticket is required.
Additional educational sessions specifically designed for fleet managers include: "The Future of Fleet Operations," "Making Vehicle Investment Decisions Using Life-Cycle Cost Analysis," "The Next Generation of Work Truck Telematics," "Ensuring Your Next Truck Chassis Matches the Job Requirements," and "The Ins and Outs of Lean for the Truck Equipment Industry." A full course schedule is available at www.ntea.com/worktruckshow/schedule/.    
Other Work Truck Show 2012 highlights include:
Keynote address by President George W. Bush at the President's Breakfast and NTEA Annual Meeting on Wednesday, March 7, 7:30am-9:15am. 
Green Truck Summit on Monday, March 5, 8:00am-6:15pm and Tuesday, March 6, 8:00am-10:45am.
Opening Reception at JW Marriott Indianapolis Downtown, Monday, March 5, 6:30pm-9:00pm.
Green Truck Ride-and-Drive Tuesday, March 6 and Wednesday, March 7, 12:00pm-4:30pm.
Special Session: YEN Leadership Workshop & Networking Reception, "Your Brand, Your Promise," Tuesday, March 6, 3:00pm-5:00pm.
Produced annually by the NTEA, The Work Truck Show brings together thousands of work truck professionals, including fleet managers, equipment buyers, maintenance personnel, manufacturers, distributors and dealers.
For a complete event schedule, interactive floor plan, housing and registration, visit www.ntea.com or call 1-800-441-6832.
Established in 1964, NTEA, the Association for the Work Truck Industry, represents nearly 1,600 companies that manufacture, distribute, install, sell and repair commercial trucks, truck bodies, truck equipment, trailers and accessories. Buyers of work trucks and the major commercial truck chassis manufacturers also belong to the Association. NTEA provides in-depth technical information, education, and member programs and services, and produces The Work Truck Show. The Association maintains its administrative headquarters in suburban Detroit and a government relations office in Washington, DC.