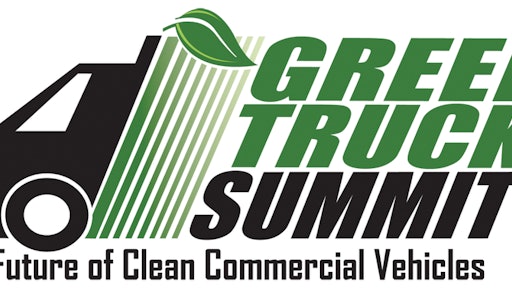 FARMINGTON HILLS, MI - The Green Truck Summit returns to the Indiana Convention Center in Indianapolis, IN, March 5 to 6, 2012. At the Summit, fleet managers and other work truck industry professionals learn about the latest advancements in clean vehicle technology and how "going green" can improve fuel efficiency, reduce costs, and help meet new regulations while also mitigating a fleet's environmental impact.
The Green Truck Summit is considered the country's leading educational forum on "green" insights and initiatives for the work truck industry. Jointly produced by NTEA, the Association for the Work Truck Industry, and CALSTART, the Summit is held in conjunction with The Work Truck Show 2012, which runs March 6 to 8, 2012. Educational programming begins March 5.
Technical experts, government officials, industry leaders and early adopter fleet managers come together at the Green Truck Summit to unveil recent developments in sustainable technologies and new commercial truck applications. Presenters share practical advice on fuel efficiency, firsthand information on building green fleet programs, and critical advances in engine and fuel technology.
"Exciting developments are underway for going green in the work truck industry," says Doyle Sumrall, NTEA senior director of business development. "It is critical now more than ever for fleets, government agencies and the dealers and distributors that support them to understand these new technologies. The Green Truck Summit provides a truly unique experience for learning, sharing knowledge and identifying solutions with key players and industry leaders."
The Green Truck Summit includes 22 breakout sessions, five general sessions and two keynote addresses over a day and a half. A complete Green Truck Summit schedule is available online at www.ntea.com/greentrucksummit/schedule.
Green truck technology is also highlighted in several other areas of the Work Truck Show, such as the CALSTART Clean Technologies and Fuels Pavilion. In addition, exhibitors with products that improve fuel utilization, are environmentally friendly, use recycled materials and/or support environmentally sustainable practices are profiled throughout the hall as part of the Green Product Showcase. The Green Truck Ride-and-Drive once again offers Show attendees the opportunity to test-drive (for free) commercial vehicles that incorporate new hybrid technology or alternative fuel applications. For more information, visit www.ntea.com/worktruckshow/greenproductsandprograms/.
To register for the Green Truck Summit and The Work Truck Show 2012, visit www.ntea.com or call 1-800-441-NTEA (6832).
Produced annually by the NTEA, The Work Truck Show showcases 500,000 square feet of Class 1-8 vocational trucks and equipment. It brings together thousands of work truck professionals, including fleet managers, equipment buyers, maintenance personnel, manufacturers, distributors and dealers.
Established in 1964, NTEA, the Association for the Work Truck Industry, represents nearly 1,600 companies that manufacture, distribute, install, sell and repair commercial trucks, truck bodies, truck equipment, trailers and accessories. Buyers of work trucks and the major commercial truck chassis manufacturers also belong to the Association. NTEA provides in-depth technical information, education, and member programs and services, and produces The Work Truck Show. The Association maintains its administrative headquarters in suburban Detroit and a government relations office in Washington, DC.