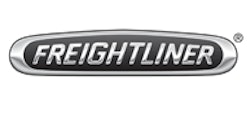 Freightliner Custom Chassis Corporation (FCCC) has named Anthony Sippel its director of sales and marketing. He will oversee FCCC product planning, sales programs, marketing communications and RV dealer relations.

Sippel joined FCCC in 1996 as a senior design engineer in chassis engineering and was appointed senior technical sales manager in 2002, working closely with FCCC's RV original equipment manufacturers. Since 2005, he has served as FCCC's RV and commercial bus product manager.

"Tony has excelled in every role he has filled at FCCC, from chassis design and product management to maintaining key relationships with our partners and customers," said FCCC President Bob Harbin. "His range of experience, expertise across our product lines and understanding of our customers' needs are invaluable assets, and his leadership will continue to strengthen Freightliner Custom Chassis and benefit our end-users."

Sippel earned his bachelor's degree in mechanical engineering technology at Purdue University.

Freightliner Custom Chassis Corporation manufactures premium chassis for the motorhome, delivery walk-in van, and school bus and shuttle bus markets. Freightliner Custom Chassis Corporation is a subsidiary of Daimler Trucks North America LLC, a Daimler company.
Companies in this article