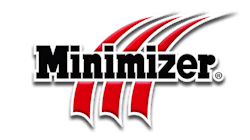 Thirty years ago, Lorraine Kruckeberg backed her vehicle over a Rubbermaid trash can, inspiring her husband Dick Kruckeberg to invent heavy-duty poly truck fenders. Thus, Spray Control Systems, Inc., which now does business as Minimizer, was born.
Since 1984, when it was known more commonly as Spray Control Systems, Inc., Minimizer has grown from a one man, direct sales business model into a nearly 60-person team with an international distribution base. The products Minimizer offers have also expanded far beyond anything Dick Kruckeberg imagined in the company's infancy. In addition to truck fenders, Minimizer also offers an array of bracket kits, toolboxes, customized floor mats, LED lights, slick disks and decorated mud flaps for the aftermarket heavy-duty trucking industry. It recently launched chrome poly and carbon fiber poly products, as well as the Minimizer Tire Mask, which makes wheel maintenance cost-effective and efficient.
"When I took control of Minimizer, I already knew we had an innovative company that led the industry in quality and customer satisfaction," said Craig Kruckeberg, Minimizer CEO. "My goal was to capitalize on our superior reputation, create a strong distributor network, build our brand on our incomparable fenders and offer more groundbreaking products. We have accomplished our goals because of our innovative research and development team, our plant workers, the executives, office staff and sales team at Minimizer. They are the backbone to our success and longevity."
Companies in this article