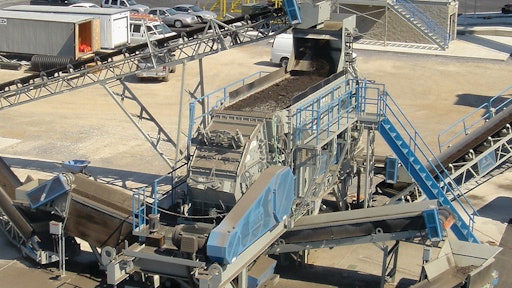 As efficiency and quality control remain essential parts of the paving process, companies continue to look for ways to harness their equipment to gain the desired results.  Lindy Paving, headquartered in New Galilee, PA, is an example of one company that utilizes additional equipment to gain efficiency and quality control with material production. Currently, Lindy Paving utilizes several Eagle Crusher units to aggressively monitor the quality of its reclaimed asphalt pavement (RAP) by recycling and crushing the materials onsite.
A member of the PJ Dick-Trumbull-Lindy Paving family of companies, Lindy Paving has a total of six asphalt plants with five located in Pennsylvania including Pittsburgh, Neville Island, Kopple, Zelienople and New Kensington as well as one in Homer City, IN.
Lindy Paving produces asphalt for every type of project from private to commercial to government work. Currently, the plants produce 25 percent warm mix asphalt (WMA), and every mix, including WMA, contains RAP.  
Utilizing Eagle Crusher Equipment
In 2003, Lindy Paving purchased its first Eagle Crusher equipment for one of its smaller plants. "Prior to purchasing the Eagle Crusher equipment we used breakers — little breaking machines," says Paul Reiner, general plant manager of plant operations for Lindy Paving. "They were really small and worked ok, but that equipment didn't do as good of a job. With the Eagle Crusher we were able to crush a lot more material at a faster pace."
Since finding success with onsite crushing, Lindy Paving added similar equipment to the Pittsburgh, Neville Island and Kopple plants. These three plants are the newest in the organization, with the Pittsburgh and Neville Island plants at about 4 years old and the Kapple plant at about a year old. The material used in the RAP comes from both Lindy Paving projects as well as outside contractors. Since the beginning of crushing RAP, Lindy Paving would use material that is removed from projects such as city streets, state highways, municipality projects and commercial parking lots.
Lindy Paving operates three systems at the three plants including two Eagle Model UM-25 impactors with 6x20 Triple Deck Horizontal screens and one UM-05 with a 5x16 Triple Deck screen. Using this system, Lindy Paving is capable of producing 200 tph of RAP. Both plants at Pittsburgh and Neville Island are Gencor 600 tph plants while the Kopple plant is a Gencor 400 tph.
One of the greatest benefits Reiner has encountered with the use of crushing equipment onsite is convenience due to the reduced handling requirements. "If you don't have crushing equipment you would have to rent a crusher, buy a crusher or have a company come in and crush it for you," Reiner says. "If you hired someone to come in and crush the materials it would be a two-step process, and you're always moving the RAP around.  We would have to stock pile the material somewhere, pay someone to come in and crush it, move the materials to be crushed to another pile, and reload it back to the plant again. We've eliminated all of that just by going with the Eagle Crusher."
By operating this equipment, Lindy Paving has developed a greater efficiency by completing its own crushing and recycling of materials. "Various companies, including our own, bring in millings sized anywhere from fines to possibly 6 inches," Reiner says. "We don't have to pre-crush the material. All we have to do is put the material in our bins then it travels up the conveyor belt and into the screen deck. The screen deck screens out the sizes we need, and then the oversized aggregate goes to the crusher. Once it is crushed to the correct size it is put on the same belt and moved into the plant."
Purchasing crushing equipment
While producers continue to look for ways to become more efficient the purchase of their own crushing equipment to handle RAP is one viable option. By purchasing their own equipment they can reduce the number of times the material is handled as well as remove the cost of an outside crushing company.
Reiner offers several considerations producers should ponder before making a purchase. "The size of the screen is very important," he says. "When purchasing a screen it depends on the amount of material you want to crush. The one thing you don't want to do is undersize the screen. Every plant is size is different, so the size of crushing equipment should be consistent with the size of the plant."
He also notes that the set-up of the equipment is also crucial to maintain efficiency. "We have everything set up in a loop," he says. "So, if oversize material comes off it will go right back into the plant then right into the crusher again."
As with all equipment, Reiner emphasizes the importance of completing proper maintenance on the crushing equipment. By consistently changing the oil, doing some greasing and changing the screens when necessary Lindy Paving produces quality RAP. "Inside the crushers are blow horns, it's what the material is pushed up against," he says. "You need to make sure they are maintained or replaced otherwise you will start wearing out your rotor. It's just like any other piece of equipment, if you take care of it, it will take care of you."