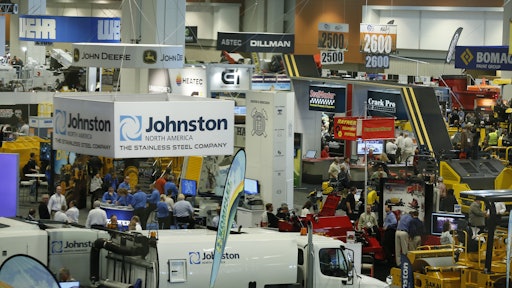 During the slow winter months, we enter tradeshow season in the asphalt industry. And while sending your crew to a trade show may seem too expensive, it's actually an investment in your business and way to ensure it will continue to grow. Here are 10 reasons to attend tradeshows in 2020 and beyond:
1. Industry Exposure:
Tradeshows help you and your employees gain knowledge and exposure to new trends, products and resources that are available for your construction business. This is a great way to learn about new products to help your crew be more productive, new regulations in the business and discover other opportunities your company needs to know or do right now.
2. New Ideas:
Tradeshows stimulate new ideas and creative ways to support your business despite the economy, past seasons and more. Where you will gain this knowledge is endless – your competition at the show, your general experience at the show and even your participation at the show will make an impact.
3. Networking:
Meet other contractors, dealer and manufacturers who you can lean on, learn from and possibly gain business from that you would not have had the chance to meet had you not attended that tradeshow.
4. Gain a Competitive Edge:
While it may seem sneaky, tradeshows are a good place to learn what your competition is up to. Ask yourself how do you compare to your competition and evaluate your strengths and weaknesses to best support your business.
5. Press Connections:
Expose yourself to the press attending the tradeshows so they know about your business. Asphalt Contractor Magazine is traveling heavily this season, so if you see us, stop and say hello. We're always looking to connect with contractors for articles and jobsite perspective.
6. Lead Generation:
Generate leads for strategic alliances and most importantly, potential customers. Collect business cards, refer to the directory and use all other outlets provided to you during the show to create a list of contacts for your files – and your business outreach.
7. Educational Sessions:
This is a big one for your crew. Participating in educational seminars, networking events and surveys only take place at tradeshows and will expose your business to new people, new business, new technologies and trends,  and new ways of thinking for your business success.
8. Ask & Answer:
Tradeshows offer great opportunities to ask questions and get answers right away from teachers of educational sessions and equipment manufacturers. Since tradeshows allow for immediate communication and easy, accessible outlets of exposure for both manufacturers and contractors, it's a great time to get answers.
9. Get Involved:
Tradeshows educate you on your industry so that you can better support your clients and customers by utilizing all the resources tradeshows offer. Tradeshows are also a good time to look in to any industry associations you've heard about and find out if one would be a good fit for further education and networking when tradeshow season ends.
10. The Fun:  
Yes – have fun. Nothing gives business owners and crew members more energy than a good time while working to keep them motivated to want to work more! 
What tradeshows will you attend this year? Let me know at jlomabrdo@acbusinessmedia.com.