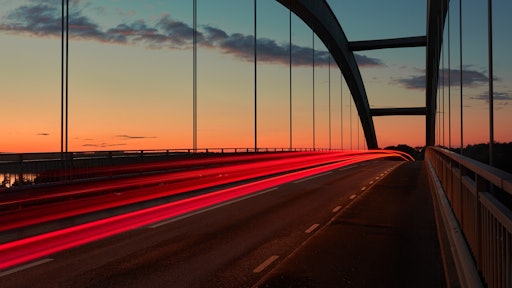 Photo by Anders Jildén on Unsplash
The Chair of the House Committee on Transportation and Infrastructure Peter DeFazio (D-OR) released text of the Investing in a New Vision for the Environment and Surface Transportation in America (INVEST in America) Act,  a surface transportation legislative proposal that would provide $494 billion over five years to make transformative infrastructure investments in surface and rail transportation. According to the release, the intent is to "get our existing infrastructure working again and fund new, transformative projects that will create millions of jobs and support American manufacturing and ingenuity while reducing carbon pollution, dramatically improving safety, and spurring economic activity."
The INVEST in America Act would provide $494 billion over five years to make infrastructure investments in surface and rail transportation. It includes $411 billion over five years out of the Highway Trust Fund (HTF) for highway, transit, safety and research programs, a 46% increase over current investment levels.
As part of the proposal, $319 billion would be dedicated for the Federal-aid highway program under the Federal Highway Administration, $105 billion for transit programs under the Federal Transit Administration, $5.3 billion for highway safety programs under the National Highway Traffic Safety Administration, $4.6 billion for motor carrier safety programs under the Federal Motor Carrier Safety Administration, and $60 billion for rail programs.
"The INVEST in America Act is our opportunity to replace the outdated systems of the past with smarter, safer, more resilient infrastructure that fits the economy of the future, creates millions of jobs, supports American manufacturing, and restores U.S. competitiveness," Chair DeFazio stated.
Act's Objectives
The stated objective of the proposed legislation includes:
Tackling the massive backlog of roads, bridges, and transit systems in need of repair and replacement 
Building resilient infrastructure that will withstand the impacts of climate change and extreme weather 
Designing streets that are safer for all road users, including pedestrians and cyclists
Putting the U.S. on a path toward zero emissions from the transportation sector by prioritizing carbon pollution reduction, investing in public transit and the national rail network, building out fueling infrastructure for low- and zero-emission vehicles, and deploying technology and innovative materials
Sharply increasing funding for public transit options in urban, suburban and rural areas in order to integrate technology and increase routes and reliability with tools such as bus-only lanes and priority signaling 
Making transformational investments in Amtrak in order to create a robust, reliable rail system and to address long-neglected maintenance needs in the Northeast Corridor and throughout the country while also enhancing rail worker and passenger safety and helping communities address grade crossing issues 
Improving access to Federal funding to help communities around the country undertake transformative projects that are smarter, safer, and made to last
The INVEST in America Act also accounts for the economic downturn caused by the global pandemic and ensures states, cities, tribes, territories and transit agencies can administer programs, advance projects and preserve jobs in the aftermath of the COVID-19 crisis. The Act authorizes a sharp increase in funding to continue current programs in the first year of enactment of the bill (FY 2021) with wider policy implementation occurring in FY 2022. 
Key Infrastructure Investments
One of the provisions included in the proposed legislation is a $319 billion investment in highways to deliver better roads and bridges faster by prioritizing fixing broken, outdated infrastructure - include the 47,000 structurally deficient bridges – before building new highway capacity. It would require states to spend 20% of their National Highway Performance Program (NHPP) and Surface Transportation Program (STP) any area dollars on bridge repair and rehabilitation projects. This would support approximately $28 billion in fix-it-first bridge investments in FY 2022-2025.
Highway investments would also be used to:
Modernize infrastructure with new funding for addressing gridlock and the most impactful projects and bottlenecks that affect local regions and the national transportation network.
Measure state-by-state greenhouse gas emissions, with incentives for best performers in carbon pollution reduction, and a new program to fund resilient infrastructure that can withstand the impacts of climate change.
Dramatically increase funding for development of charging stations and other alternative fueling options for electric and zero-emissions vehicles.
Address rising rates of pedestrian and bicyclist deaths by requiring states with the highest rates to set aside funding to tackle the problem, codifies and expands eligibility for safe routes to school, provides funding to develop active transportation networks, and strengthens emphasis on high risk rural roads.
Double funding for technology deployment to increase innovation and creates new program to fund green materials research and to deploy green construction materials and practices to create smarter, more efficient transportation systems.
Another $105 billion would be committed to transit investments to:
Increase funding for transit agencies to add new routes and provide more reliable service, encouraging viable public transit options and fewer single-occupant cars clogging highways.
Create a Mobility Innovation program to permit transit agencies to collaborate on mobility on demand services.
Strengthen Buy America provisions to boost domestic jobs in rail and bus manufacturing. o Increases investment in zero-emission buses to reduce carbon pollution.
Streamline project delivery by reforming the Capital Investment Grants program so that our investments get shovels in the ground quicker and commuters see results faster.
Provide the investments needed to address the growing backlog of transit maintenance needs, making public transit safer and more reliable.
Road Building Industry Weighs In
Dave Bauer, president and CEO of the American Road & Transportation Builders Association (ARTBA) issued a statement following the release of the proposed surface transportation legislative proposal, indicating, "If America can put astronauts back in space for the first time in nearly a decade with a little help from the private sector, surely we can do something similar to modernize our aging transportation network."
He continued, "With the most severe economic disruption since the Great Depression and continuity of state transportation improvement programs in doubt, the case for Congress to deliver a robustly funded infrastructure bill has never been stronger.  
"The transportation construction industry, in partnership with public agency officials, is ready to rebuild the nation's highways, bridges and public transit systems.
"The release of the House bill complements efforts already underway in the Senate. The FAST Act (Fixing America's Surface Transportation Act) transportation law expires in less than 120 days. It's time to hit the gas on the legislative process to ensure that infrastructure investment springboards economic recovery."
Draft of Surface Transportation Bill Released, Industry Calls for Bipartisan Support