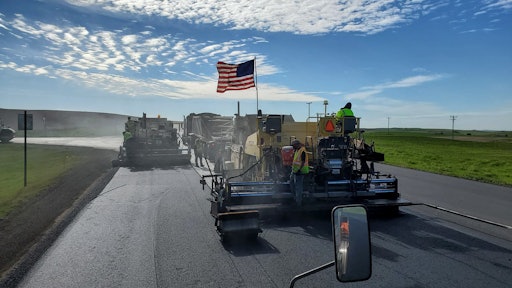 Kaylene Carlson/Facebook
House Democrats have released the Investing in a New Vision for the Environment and Surface Transportation in America (INVEST in America) Act, a key component of the Moving Forward Framework that House Democrats, led by Chair Peter DeFazio (D-OR), released earlier this year. 
In all, the bill would offer surface transportation programs $494 billion over five years, including $411 billion over five years out of the Highway Trust Fund for highway, transit, safety and research programs, representing a 46 percent increase over current investment levels, according to documents released by the committee. 
Of that $494 billion, $319 billion would go to highways, $105 billion to transit, $4.6 billion for highway safety, $5.3 billion for motor carrier safety and $60 billion for rail.
The bill also emphasizes fixing before building, requiring National Highway Performance Program funds to focus on maintenance and operational improvements to existing facilities before building new highway capacity. It would require states to spend 20 percent of their NHPP and Surface Transportation Program dollars on bridge repair and rehabilitation projects — about $28 billion in fiscal years 2022 through 2025.
Where's the Pay-For?
The figures included in the bill closely mirror elements of a comprehensive $760 billion infrastructure framework first floated by House Democrats in January, but still does not address funding for such legislation. 
DeFazio and groups such as the American Association of State Highway and Transportation Officials and the U.S. Chamber of Commerce have advocated an increase in the federal gas tax, while others, such as Graves, have pushed for a shift to an alternative that would charge drivers based on vehicle miles traveled.
The introduction of the House bill is the first significant movement since last July, when the Senate Environment and Public Works Committee approved its own five year, $287 billion highway bill.
The current funding authorization expires at the end of September.
"The bulk of our nation's infrastructure—our roads, bridges, public transit and rail systems, the things that hundreds of millions of American families and businesses rely on every single day— is not only badly outdated, in many places it's downright dangerous and holding our economy back," DeFazio said. "Yet for decades, Congress has repeatedly ignored the calls for an overhaul and instead simply poured money into short-term patches. The result? We're still running our economy on an inefficient, 1950s-era system that costs Americans increasingly more time and money while making the transportation sector the nation's biggest source of carbon pollution. That all changes with the INVEST in America Act."
Sweeping Legislation
While many associations applaud the introduction of the new legislation, it's feared the bill may have lost focus. While DeFazio called the legislation "transformational" as it not only addresses our nation's roadways, but also plans to tackle climate change, Republicans were not as enthused. 
In a joint statement, ranking Republican Sam Graves of Missouri, Subcommittee on Highways and Transit ranking member Rodney Davis of Illinois and Subcommittee on Railroads, Pipelines, and Hazardous Materials ranking member Rick Crawford of Arkansas said they and other Republicans on the committee were not involved in the development of the bill.
They criticized the bill as lacking flexibility for states and giving "outsized" funding to urban areas at the expense of rural communities.
The bill, according to a committee summary, would also tackle climate change and require the Department of Transportation to create greenhouse gas reduction measures and set goals for states to meet. The legislation would provide $8.35 billion to help states achieve their goals. Low-performing states would be required to invest 10 percent of their federal surface transportation funds in additional projects to cut emissions.
The bill also would authorize $6.25 billion to pay for resilient infrastructure that could withstand major weather events caused by climate change. It would require states and cities to develop an infrastructure vulnerability assessment to guide investments under the program. 
It would provide $350 million per year in grants to create electric vehicle charging and hydrogen fueling stations.
Coronavirus Relief 
Before implementing these policies however, the bill would address the current Coronvirus pandemic, providing $83.1 billion in fiscal year 2021 to help save state and local transportation agencies crippled by the pandemic. 
It would briefly eliminate the state-federal match, ensuring that all federal dollars offered in 2021 would be offered at 100 percent federal share. And the bill would allow state and local governments to use $22 billion of that  money for salaries and operating expenses.
By changing the matching formulas, the bill mirrors elements of one passed by the House on May 15. That bill, which has not advanced in the Senate, would allocate $15 billion for highway spending but would increase the federal share for highway projects to 100 percent. The American Association of State Highway and Transportation Officials in early May asked for $50 billion in direct emergency assistance to state departments of transportation. 
It's Time to Act
The FAST Act transportation law expires in less than 120 days and, now is not the time to kick the can down the road again, especially as infrastructure offers an opportunity for bipartisanship. 
"Investing in our nation's infrastructure benefits all Americans and has enjoyed strong support by members of Congress from both sides of the aisle," said Dennis Slater, president of the Association of Equipment Manufacturers. "The House Committee on Transportation and Infrastructure's release of its draft surface transportation bill is an important step in the reauthorization process, as were efforts by the U.S. Senate last summer. We strongly encourage the U.S. House to maintain this bipartisan momentum. The COVID-19 pandemic and the resulting economic recession have severely impacted equipment manufacturers and the 2.8 million men and women of our industry. Republicans and Democrats must agree on legislation that prioritizes American jobs and provides long-term funding for critical infrastructure modernization. Infrastructure investment is the bipartisan solution that will help us out of this sluggish economic pace, rebuilding our economy and our aging roads, bridges, and highways."
It's still very likely however, especially given the tough decisions about pay-fors, that Congress will extend the existing law and push off the tough work until after the election.