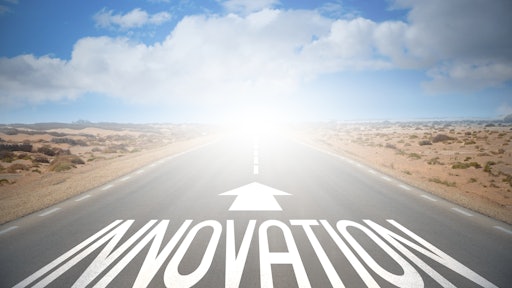 Adobe Stock/PX Media
The asphalt industry is not known for being innovative. We like to do things the way they have always been done because that's what has always worked. But with budget constraints at all levels of government, it's also imperative to get the greatest value for every transportation dollar the American people invest in our roadways.
In order to achieve this moving forward, and win more bids than their competition, contractors need to focus on innovation in pavement design and construction. We have four simple ways to start bringing some new technologies and procedures into your company. We promise they will help you get more work done faster and that it won't hurt a bit. 
1. Dip a Toe in Technology:
We're not saying you need to go out and invest in technology for your whole fleet, but if you've never tried intelligent compaction on your rollers or are still using stringlines for paving, what are you waiting for? Consider renting a newer machine and trying out these innovations or call your local dealer and ask for a demo.
Get the training needed to use the equipment properly and see how your crew performs with this new machine. Watch how much they love seeing their results in real time. See how productivity is improved at the end of each day. Take note of what they like and what they don't like and consider possibly investing in something new. 
As the younger generation is entering the workforce, they are going to expect some level of innovation from your company and you have to start somewhere. 
2. Try New Materials:
From warm mix asphalt (WMA) to reclaimed asphalt pavements (RAP) to binders made from bio-based materials, there are hundreds of new designs for asphalt pavements that can save contractors money and help them improve their carbon footprint. Industry rhetoric will tell you that these materials won't perform as well as virgin materials but the innovations behind these products have come a long way. 
Contractors are finding huge success when partnering with suppliers of these materials to find something that will not only save them money but also help them to win more bids with these innovative products.
3. Learn Something New: 
You can ALWAYS teach an old dog new tricks, as long as he's still willing to learn. With virtual classes literally taking place every minute, there's no reason not to hop on a computer and sit in on an hour-long webinar about a topic that interests you. 
Associations and manufacturers are using technology in this way to communicate with their customers in the absence of tradeshows. Take advantage of this usually free opportunity to learn more about the innovations they have coming down the pipeline and learn how they can positively impact your business. 
4. Don't Be Afraid of Change:
Being afraid of downtime for training or the cost to implement innovation can no longer keep you from changing. Asphalt contractors are going to be tasked with a lot more work once an infrastructure bill is passed and you need to be prepared to do the work the way it's being proposed and not the way it's always been done. Consider bringing alternative methods and improvements to the table to help better position your company for success in the future. Those companies who are continually pushing the industry forward through innovation and new construction practices will only see benefits to their business.
Check out other articles about technology here and see how contractors have used these innovations to their advantage. Let me know what innovation you're company will try in 2021:  jlombardo@acbusinessmedia.com