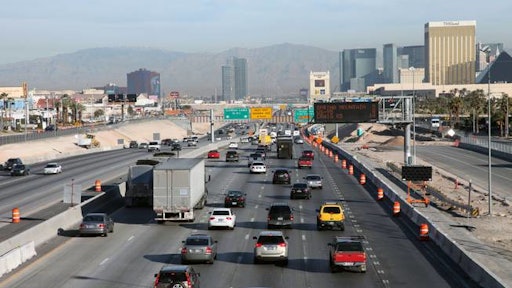 Now that the Raiders' move to Las Vegas has been approved, focus is shifting to what needs to be done for the $1.9 billion, 65,000-seat domed stadium to be complete for the 2020 season.
As important as any aspect is the access to the proposed stadium site on Russell Road west of Interstate 15. The Nevada Department of Transportation is in the initial stages of road projects that have already been planned to address traffic growth on the Interstate 15 corridor over the next 20 years.
"NDOT is drafting the scope of work for environmental clearance and preliminary engineering for the I-15-Tropicana interchange reconstruction and the direct-connect HOV (high-occupancy vehicle) ramps proposed at Hacienda and Harmon," said Rudy Malfabon, NDOT director. "A request for proposal will be issued in a few months for that scope of work."
A 2016 study by CH2M estimated the costs for the improvements to be $899 million, but that number is subject to change.
"The estimated cost is attributed to future traffic growth on I-15 and not just the stadium," NDOT spokesperson Tony Illia said. "The projects in the stadium report lie between Sahara Avenue and Blue Diamond Road on I-15, which is about 8 miles. Some projects are near the stadium proposed at Russell Road, but the projects aren't because of the stadium; they are necessary to address the traffic demands anticipated on I-15 in the next 20 years or so."
Once the road projects are complete, Malfabon believes the area will be able to handle the additional 15,000-18,000 vehicles associated with game days and big events.
"The improvements were planned to address future traffic growth, but since they add capacity and improve mobility, they can make residents' and visitors' trips to the stadium easier," Malfabon said.
The almost $1 billion Project Neon will also aid the stadium area. NDOT is installing an Active Traffic Management System (ATMS) which will help the agency manage traffic on I-15 better.
Malfabon said the initial stages leading up to construction are expected to take a couple of years.