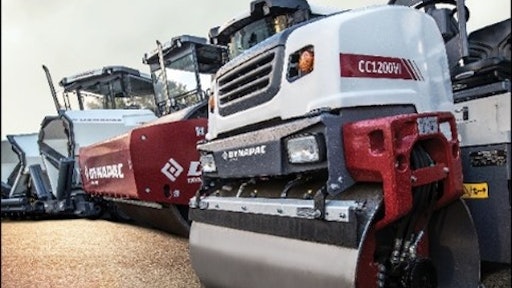 Dynapac
Dynapac North America LLC announced that Modern Machinery will be expanding their current footprint for Dynapac products into Northern Wyoming, Oregon and Washington. This will add to their already existing footprint in Montana and Idaho. This addition will make Modern Machinery one of the largest Dynapac dealer partners in North America. For customers of Modern Machinery, the expanded partnership with Dynapac creates access to new, used and rental equipment along with an exceptional commitment to product support in their region.
"The Dynapac line has a long and established history in our territory and is well respected and appreciated by our customer base," Lamont Cantrell, president ofModern Machinery said. "I'm personally very excited to represent the product and I know with the amazing product support of the Modern Machinery team it will be a tremendous success."
Modern Machinery offers heavy equipment and provides exceptional product support to the construction, mining and forestry industries. Modern Machinery began in 1944 with a single location in Spokane, WA. Today, Modern operates full service branches in Missoula, Billings, and Kalispell, MT; Boise, Jerome and Pocatello, ID; Kent, Spokane and Rochester, WA; Portland and Eugene, OR.
"We are very excited to expand our partnership with Modern Machinery," Jamie Roush, Dynapac North America vice president of sales said. "They are very well respected in the market and are a perfect fit for Dynapac. This partnership will enable us to strengthen our brand presence and customer support even further in this region. It is an exciting time for Dynapac."