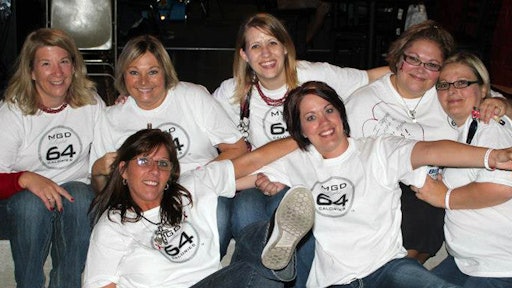 Through charitable employee and community contributions, manufacturer Kolberg-Pioneer Inc. was able to help in efforts to raise more than $20,000 for employee Linda Stock, who has worked for the company since 1987 in the technical publications department and was diagnosed in July with a blood cancer called Myelodysplastic Syndrome.
Several fundraising efforts were held, including selling "Team Stock" bracelets, holding raffles, splitting proceeds with local artisan Jean Koupel, working with Scentsy and Tupperware consultants who donated proceeds, and hosting a community benefit at Rounding 3rd in downtown Yankton. More than 400 people attended the benefit, and were entertained by the band "Mrs. Begley and the Boys," which donated its time for the event.
"Because of all of the bills that piled up due to testing and treatments, we decided to try to help out Linda as much as we could," said Casey Sloan, who works in Service at Kolberg-Pioneer. "Linda is extremely grateful for everyone's support – every little bit helped."
Stock, who will have a bone marrow transplant in October, will undergo chemo treatments in Omaha, Neb., for a few months, and hopefully return to Yankton in February.
"I've realized through all of this how great KPI and its employees are, as well as the community of Yankton and all of my friends and family," Stock said. "I'd like to thank everyone for their support- it means so much!"
To donate to Linda Stock's medical fund, please contact Casey Sloan.
Companies in this article