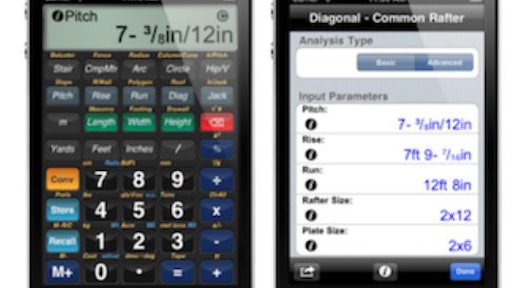 Mobile app: BuildCalc – Advanced Construction Calculator
Developer: 42nd Parallel
Cost: $19.99
Available on: Android and Apple devices
Average Ratings: 4.5 stars
Download: Apple App Store & Google Play Store
Rated as one of the 10 best apps for construction by Fitcom Solutions, the BuildCalc mobile app provides a material estimation calculator for several construction materials including footings, masonry, volume/area, roofing and more to help streamline your construction math. The calculator app also does conversion for distance, area, volume, weight and angles.
With the newest advanced features, BuildCalc provides all results in a list form which the user can save with a label of his or her choice for review and use whenever needed.
In addition to completing the calculations, BuildCalc also provides a checklist of inputs and on-the-spot help allowing the user to easily find and recall what needs to be entered for each function.
Features of the app:
Spreadsheet style forms to allow you to test layout scenarios
Email, save and recall analysis results
Full manual with extensive examples
Daylight Display Mode for better visibility onsite
Customizable material size lists
Swipe for fast switching between Imperial and Metric units
Swipe for fast switching between Trig function and Dimensional function display
Save to SD on capable devices
See BuildCalc in action with these instructional videos.