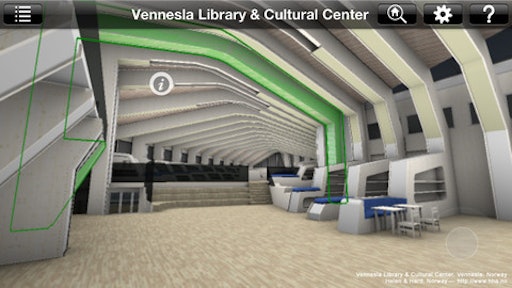 Mobile app: BIMx
Developer: Graphisoft SE
Cost: Free
Available on: Apple and Android devices
With the BIMx mobile application, users can open and interactively explore 3D Building Information Models (BIM) that had previously been created with ArchiCAD. The app allows you to view and share designs without any registration.
The app uses real-time 3D navigation with familiar navigation techniques to explore design concepts and alternatives. When ready to share, users can send it as an executable file for Mac or Windows desktops or for iOS and Android devices which can be viewed on a free, downloadable viewer.
Video: How to Navigate Graphisoft's BIMx Mobile App on an iPad
BIMx users can share their project designs either through the BIMx Community Site or the BIMx Model Transfer Site. With the community site on Facebook , users can upload models with any ArchiCAD licenses even without a Facebook account. Viewers can comment, like and share as well as use customized functions for filtering models. The Model Transfer Service is a cloud-based service for users with an active ArchiCAD Software Services Agreement. Users are entitled to 1 GB free cloud storage space with each commercial BIMx license they own. Files can be password protected.
BIMx allows the viewer options for display modes including realistic, black and white, hidden line, simple shading, metal, stereo 3D, and perspective and parallel projects.
App features:
Real-time 3D cutaway
Intelligent BIM model shows all types of BIM element information and accurate measurements
Layers can be switched on or off to see beyond the surface or show different parts of the project
Full, natural building explorer with gravity and egress recognition and all necessary UI features
Visual filters provide high quality architectural presentation environment