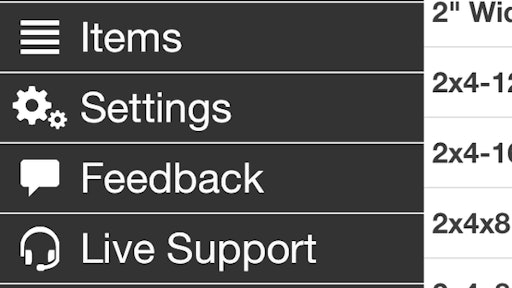 Mobile app: Contractor Building Material Pricing Tool
Developer: Joist Inc.
Cost: Free
Available on: iPhone and iPad
The Joist Contractor Building Material Pricing Tool mobile app allows contractors to create a material lists for their next project. Once a list is created, it can be sent to up to three local suppliers to get pricing. The app provides a simple way to record and manage the entire material ordering process.
Released in August 2013, the app was developed after Joist spoke with contractors about the pains involved in getting up-to-date pricing on building materials.
Since the Joist app is a cloud application, all of the info can be accessed from a mobile device or the web. Instead of having to make multiple phone calls, store information in a notebook and drive to multiple locations, contractors can get their pricing for materials all in one place.
According to Brendon Sedo of Joist, time savings is one of the top three benefits for contractors using this app. "You can build your material list as you go then easily send it to your suppliers and receive a quick response," he says. "No need for multiple phone calls or price checks; the pricing gets sent back to you. In addition to time savings, as mentioned above, the app offers an all-in-one process from the takeoff to the order.
App features:
Create, organize and store material info
Comprehensive search to locate any supplier – find suppliers closest to the area
Direct messaging with suppliers
Compare bids from suppliers to find best price
Purchase materials directly in the app and specify pick up or delivery