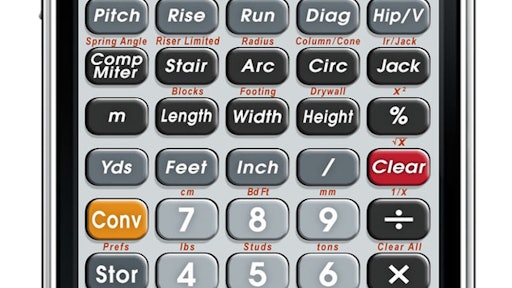 Mobile app: Construction Master Pro
Developer:  Calculated Industries
Cost: $19.99
Available on: Android and Apple devices
While the handheld Construction Master Pro calculator has been available for 25 years, contractors can now access the Construction Master Pro calculator as a mobile app. The mobile app version features two apps in one. The mobile app has all the functionality of both the Construction Master Pro calculator and the Construction Master Pro Trig.
Video: Comparing Calculated Industries Apps to Calculators
The Construction Master Pro app calculator can do dimensional math and conversions, right angle solutions, and area and volume solutions. Special functions include: Trigonometric function keys, board feet, user-definable preferences, cost per unit, equal-sided polygon, compound miters, crown angle, and paperless tape.
Contractor reviews say the mobile app calculator looks and works just like the handheld version which minimizes the learning curve.
App features:
Full User Guide in English or Spanish
Built-in right-angle solutions for square-ups, stairs, roof and rafter layouts
Built-in help - just press and hold function key for full, clear definitions, explanations and examples of keystrokes
Solve construction math problems on the jobsite or in the office
Reduce errors on estimating, bidding and building
Entry editing backspace with the swipe of a finger
Four memories
Full trigonometric function: sine, cosine, tangent, arcsine, arccosine and arctangent
Built-in solutions make it ideal for completing layouts, plans, bids and estimates
Work in and convert between all building dimensional formats: feet-inch-fractions, inch fraction, yards, decimal feet (10ths, 100ths), decimal inches and metric (m, cm, mm)
Companies in this article