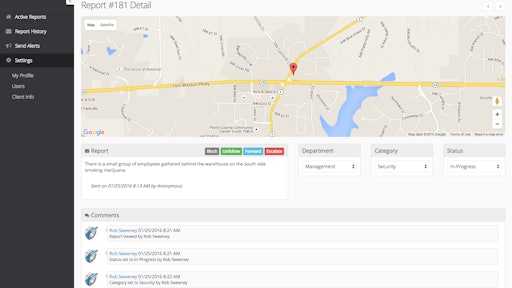 UPDATED FEBRUARY 2016
Mobile app: WorkplaceAware
Developer: Mobile Innovations LLC
Cost: Free
Available on: Apple and Android devices
The WorkplaceAware mobile app can be used to create safety reports as well as send pictures of safety-related issues to company safety managers. Designed to eliminate barriers to reporting safety incidents and near misses, WorkplaceAware makes safety managers instantly alerted to safety hazards in real-time. WorkplaceAware moves safety reporting from the old paper-based documentation method to a mobile app and web database system. 
All reports submitted through the mobile app are geo-tagged based on a user's current location. This feature allows managers to respond to incidents faster and more accurately. In addition, the geo-tagging helps if employees forget to include location details when submitting text or photos.
The WorkplaceAware app is designed to be used in combination with a MessageQube, which is a mini cellular desktop printer that receives text and photo messages from any cellular phone. Report content can be printed using the MessageQube.
Reports also populate in a company's secure WorkplaceAware Enterprise Dashboard where safety managers can view, comment and manage reports, including documenting corrective action taken or sending reports to higher authorities.
App features:
Simple text messages can be sent using the text message feature on any mobile phone
Send photos or more detailed reports up to 600 characters in length
System can be configured to notify managers via email when reports are filed
Reports can be submitted anonymously
Enterprise Dashboard captures digital copy of all reports
See at-a-glance report charts for all message statistics
Administrative tools let you manage your organization's profile
Reports include date, time, description and picture of incident
Managers may enter comments on action taken for each report
Generate PDF or CSV historical incident reports tailored by type of report or other parameters