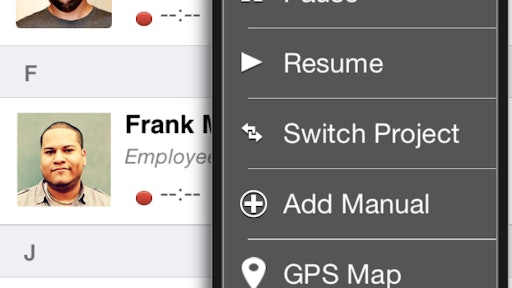 Mobile app: BusyBusy
Developer: BusyBusy.com
Cost: Free personal account; monthly subscription fees for adding team members
Available on: Apple and Android
BusyBusy is a mobile app for time tracking and payroll. Employees can clock in and out of jobs using the app on their mobile device or managers can clock in crews individually or as a group. GPS is used to obtain accurate clock in and clock out locations so managers and construction owners can see where employees are and what they are working on. BusyBusy lets construction business owners see which employees have worked on a job, the amount of time each employee has spent and how much it has cost to date.
With BusyBusy, time cards are automatically collected from every project as they happen. These time cards are then accessible from an employer's mobile device or a desktop browser. Time entires are also editable. BusyBusy lets the employer set permissions for employees to edit their own time entries or require a manager do it for them.
Video: How the BusyBusy Time Tracking Mobile App Simplifies Time Cards for Construction Contractors
Employees with smartphones or tablets and the BusyBusy app can verify and sign their mobile time sheets right from their mobile devices.
Construction contractors can sign up for a free BusyBusy account and then have the ability to purchase business workspaces starting at $39 per month for two team members all the way up to $2,500 per month for 500 team members.
App features:
Integrates and synchronizes with Quickbooks
Pause timecards for employees taking an unpaid break; document employees are getting legally required break times
Automatic overtime calculations for every employee
Automatically flag time entries with overtime
Create a project for each job; add budgets to longer projects
Break projects into sub-projects or scopes of work on a job so employees can clock in and out of specific portions of that job; focus reports to get more meaningful information
Employees can specify which project they are working on
Quickly switch between projects
Upload photos to projects
Create tasks and delegate them to team members or schedule for the future
Set employee permission levels
Set each employee's wage and overburden so BusyBusy can calculate project costs in real-time
Set pay period intervals so BusyBusy can organize employee time entries in a meaningful way
Measure work and time against daily labor costs
Store all related documents inside the project they belong to for easy access
Reports, tasks and project documentation instantly available either on a mobile device or desktop browser
Export payroll data to CSV or PDF with a single click
Print time cards all at once or one at a time
Subscription service can be changed monthly to fit the number of app users