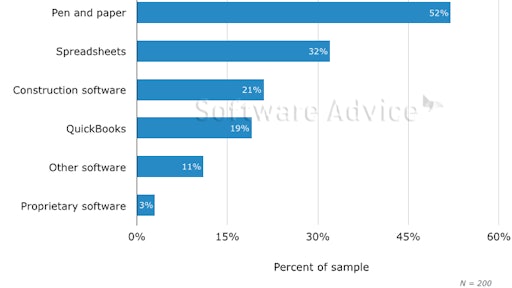 As a construction contractor you know the role technology plays in the industry, but are you investing enough of your IT time and budget in that technology? Software Advice, a company that connects construction management software buyers with vendors, recently conducted a survey that showed the average survey respondent was investing less than 1 percent of annual revenue for IT. However, just spending more on construction software may not be the best — or right — answer for your business. Take into account software's scalability, flexibility and future reliability before jumping into a new or upgraded construction software system.
The Software Advice survey of prospective construction software buyers was designed to get a better understanding of the challenges these buyers face and what they are looking for in a new construction software system. In this case, construction software is referring to those systems that conduct basic processes such as bidding, estimating, takeoffs, accounting and project management. 
What did the survey find?
For starters, the construction industry budgets about one-third less of annual revenue for IT than the cross industry average. The cross industry average is 3 percent, according to Software Advice, and as mentioned earlier the construction industry averages less than 1 percent. So while we continue to see technology and its uses increase in the industry, construction contractors still aren't budgeting much for its implementation and use. 
"The most important thing that construction professionals need to realize is that the software they use is a tool; like any other tool, it's better to invest in something that adequately suits the user's needs and is well-made and reliable," says the report's author Forrest Burnson. "I think a lot of construction firm owners experience a degree of sticker shock when they're looking to deploy specialized construction software, and that's understandable — if they're graduating from using QuickBooks or Microsoft Office, then the cost can seem excessive at first. But once they see how that specialized software not only saves them time but improves their bids and estimates and keeps them more organized, then it's easier for them to justify the investment. To put it another way: Few construction firms who deploy specialized software solutions ever go back to doing things the old-fashioned way."
Survey results indicated that many construction contractors — 52 percent of survey respondents — still prefer to use pen and paper for day-to-day processes such as bids, takeoffs and estimates. Only 24 percent of survey respondents are using construction or proprietary software for these same tasks. 
However, accuracy is the main driving factor for contractors seeking construction software, according to the survey. The top three reasons survey respondents gave for looking for new construction software are improving estimating, improving bids and improving organization. Providing more accurate and quality bids to customers has become so important as budgets have tightened during the recession and post recession years. That's not to say that the pen and paper method doesn't produce accurate data, but one of the main goals of most construction software is to reduce human error mistakes and improve accuracy when gathering or calculating data.
Why does that matter? For one thing, using out-dated, time consuming methods such as pen and paper might be hindering how competitive contractors are in the market place. Are your competitors using construction software? If so, it's possible they are presenting more accurate information to possible customers more quickly than the old pen and paper method. Plus, the more customers become tech savvy the more they will expect that from the construction contractor they choose. Have you come across any projects or customers who require construction contractors to use construction software for a job? If not, you probably will. Some customers or projects may even specify software brand or type that is required for the job.
Contractor budgets may be a limiting factor in construction software purchases. However, many construction software vendors have multiple, scalable options that can work for construction contractors of all sizes and budgets.
If you don't quite have the budget for a full fledged construction software program, consider researching what mobile apps might fit your construction business needs. There are so many mobile apps designed for the construction industry and processes such as estimating, employee management, document sharing, communication and more. Not sure where to start? Every week ForConstructionPros.com publishes an App of the Week right here on the Construction Toolbox blog. The App of the Week highlights the key features and benefits of mobile apps geared toward gathering, sharing and managing the crucial data that can make a construction businesses more profitable.
If you're like any of the Software Advice survey respondents interested in purchasing new construction software or updating from the current system you're using, Software advice offers three suggestions drawn from the survey results:
Before purchasing construction software, consider its scalability. If you will be investing in the software, think about not only how it will work for your business today but how it will work in the long-run as well. Consider how the software system will accommodate and future growth in number of users or projects your company may take on in the future.
Make sure the construction software provides project flexibility. Can the software handle the different types of projects you currently do or may start doing in the future? Will the software still be relevant for your construction company if your business has to adapt to changing market conditions?
Software Advice cautions potential buyers to consider vendor viability. While we're not saying larger or small software vendors are a better option over the other, Software Advice points out that larger software vendors often acquire smaller vendors, which can sometimes result in support and updates for smaller vendors' software being discontinued.
What's the takeaway from all this information? According to Software Advice, "While it may be difficult for some in the construction industry to relinquish their traditional methods and adapt their processes, the ROI from implementing new construction software should be clear."
What do you think?
What's the primary reason you limit investment in construction software?
What ROI have you seen from investments in construction software?
What kind of construction software has had the greatest impact on the way you do business?
Share your thoughts in the Comments section below.