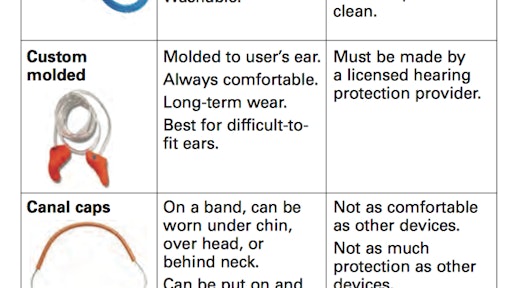 According to the Occupational Safety and Health Administration (OSHA), nearly 30 million people in the United States are exposed to hazardous noise on the job. Noise-related hearing loss has been one of the biggest job-related health concerns for over a quarter of a century. The new #Saveyourhearing campaign from Allearplus.com hopes to make people aware of hazardous noise on the job and encourage everyone to wear the proper hearing protection to prevent hearing loss from occupational-related noises.
The Bureau of Labor Statistics reported that nearly 125,000 workers have suffered significant, permanent hearing loss since 2004. While short-term exposure to loud noise can cause a temporary change in hearing, such as ringing in the ears, repeated exposure — even if just short term — can lead to permanent damage or hearing loss. 
"Industrial machines are often loud enough to start causing permanent damage in less than a minute if no protection is in place," said Rob Doole, managing director for Allearplugs.com.
In addition, a study by researchers at the University of Kentucky found that long-term noise exposure may also increase the risk of heart disease. "Compared with people with normal high-frequency hearing, people with bilateral high-frequency hearing loss were approximately two times more likely to have coronary heart disease," according to Dr. Wen Qi Gan.    
DOCUMENT: Protecting Yourself from Noise in Construction
Signs a workplace is too noisy
Ringing or humming in your ears when you leave work
You have to shout to be heard even if a coworker is an arm's length away
You experience temporary hearing loss when you leave work
How noisy is too noisy
To help protect workers OSHA has set legal limits on noise exposure in the workplace. The permissible exposure limit (PEL) is 90 decibels (dBA) for an 8-hour day. When the noise level is increased by 5 dBA the amount of time a person can be exposed to that level of noise is cut in half.
[VIDEO] Construction Safety - Hearing Protection
In addition, the National Institute for Occupational Safety and Health (NIOSH) recommends workers not be exposed to noise levels higher than 85 dBA for eight hours to minimize occupational noise induced hearing loss. NIOSH also recommends time exposure to noise levels only 3 dBA higher be cut in half, compared to OSHA's limit of 5 dBA.
How to save your hearing
Noise controls are the first line of defense against excessive noise exposure, according to OSHA. Many construction equipment manufacturers place an emphasis on reducing the amount of noise an operator is exposed to while in the cab of the machine. OSHA also suggests contractors maintain and lubricate their equipment to help reduce excessive noise levels.
[VIDEO] Buy Quiet Construction Initiative Aims to Eliminate Noise Hazards
Aside from the equipment, contractors can make changes in the workplace to reduce or eliminate noise exposure as well.
Operate noisy machines during shifts when fewer people are exposed
Limit the amount of time a person spends at a noise source
Provide quiet areas where workers can get relief from hazardous noise sources
Contractors should also use hearing protection devices such as ear plugs or noise reducing/canceling headphones. There are many types of hearing protection designed for different noise conditions, but if workers do not wear them correctly and all the time, they will not be effective. These devices should be used in conjunction with other methods of reducing noise on the jobsite. 
[VIDEO] Personal Protective Equipment Basics - Hearing & Ear Protection
According to OSHA, employers are responsible for selecting, fitting and maintaining hearing protective devices and must provide them to workers at no costs and train worker in how to use them correctly.
OSHA also requires contractors incorporate an effective hearing conservation program when the construction jobsite noise levels exceed 90 dBA for an 8-hour exposure.