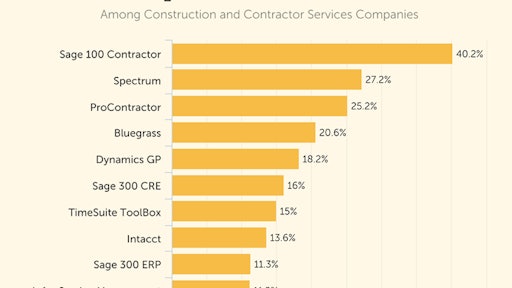 Construction businesses are continually evolving (hopefully), which includes adding construction software and technology into business processes. Many construction businesses are already using accounting software to improve workflow processes. Quickbooks is one of the more popular accounting software options available, but what if your construction business is looking for a different option?
Earlier this year, Find Accounting Software published an article on the most popular accounting software alternatives to Quickbooks. To find the best, most popular alternatives, 559 individual products were reviewed by the 4,143 organizations the company interviewed. FindAccountingSoftware.com is a service that has helped more than 200,000 businesses in the U.S. and Canada find software that meets their needs. 
The Top 10 Quickbooks alternatives for the construction industry, ranked by percentage of construction contractors who reviewed them, include:
Sage 100 Contractor
Spectrum
ProContractor
Bluegrass
Dynamics GP
Sage 300 CRE
TimeSuite ToolBox
Intacct
Sage 300 ERP
Infor Service Management
Sage 100 Contractor
According to developer Sage North America, Sage 100 Contractor (formerly Sage Master Builder) is a "complete solution for small and medium companies that need to automate processes, connect employees and gain business insight."
Sage 100 includes estimating, scheduling, project management, equipment management, payroll, accounts payable, accounts receivable and general ledger. Some features of Sage 100 Contractor include:
Streamline invoicing and bill collection
Manage material bills and work order changes
Track work-in-progress in real time
Pricing for Sage 100 Contractor starts at $45 per month.
Spectrum Construction Management Software
Dexter + Chaney's Spectrum software solution features a redesigned user interface and user experience for an easy-to-use business management software. The cloud-based solution includes support for general ledger, accounts payable, accounts receivable, job costing, and payroll.
Features include:
Customizable dashboard
Fully-integrated web-based document management
ProContractor
Viewpoint Construction Software's ProContractor is an all-in-one solution for estimating, project management and accounting to manage the entire lifecycle of a construction project.
Features of ProContractor include:
Produce takeoffs, estimates and proposals
Mobile app
Job cost tracking tools
Manage financials, employees and payroll, procurement and inventory, and electronic filing and reporting
Bluegrass
Bluegrass Software Solutions is a full, scalable accounting software system for any sized contractor. Bluegrass offers functionality for job cost management, general ledger, accounts payable, accounts receivable and billing, and payroll.Features of Bluegrass include:
Create detailed proposals
Create work orders for service contracts
Track history by equipment and service site
Track profitability by customer
Dynamics GP
Topping the entire list for Quickbooks replacements, Microsoft's Dynamics GP is an accounting/ERP product that supports financial management and accounting, inventory management and operations, sales and services, business intelligence and reporting, and human resources and payroll.
Dynamics GP has been around for more than 25 years since its introduction in 1993. It is built to work like Microsoft Office products.
Features of Dynamics GP include:
Cash flow management
Budgeting
Receivables management
Sage 300 CRE
Sage 300 Construction and Real Estate (CRE) is a complete construction management solution for larger businesses. It includes accounting and estimating applications, procurement, production management, project management, property managed and service management support as well as reporting tools.
Features include: 
Document management
Track costs
Produce estimates
Real-time reports
TimeSuite Toolbox
TimeSuite Software's TimeSuite Toolbox is a  customizable project, estimating and accounting software that has been available since 1996. TimeSuite Toolbox includes support for job costing, general ledger, accounts payable, accounts receivable and payroll.
Features of TimeSuite include:
Automated over/under billings
Automated audit trail
Customizable transaction screens
Project cost and profitability projections by budget line item
Intacct
Intacct includes support for core accounting, financial reporting, billing, purchasing, sales and use tax, inventory management and project accounting. Often used by small- and mid-sized businesses, the cloud-based solution is a subscription based on-demand model that provides a lower total cost of ownership compared to on-premise systems.
Features include:
Support of time-based billing
Real-time, role-based dashboards 
Sage 300 ERP
Developed in 1976, Sage 300 ERP is an accounting and business management solution that features support for core accounting, billing, human resources, payroll, inventory control and purchasing. In addition, it offers support for document management, customer relationship management (CRM) and project management.
Sage 300 features include:
Purchasing management to create detailed, accurate records of every purchase
Real-time, accurate information on assets including receipt, location and disposition
Project estimating, billing, and time and materials invoicing
Infor Service Management
Infor's Service Management software solution provides functionality for accounting, work orders, inventory, analytics and asset management.
Features include:
Schedule preventative maintenance for equipment assets
Track and manage work orders
Track and manage service contracts
What do you think? Are you looking for an alternative to Quickbooks? 
Have you used any of these software solutions? Do you use an accounting software solution you think is better than the above?
Do you think Quickbooks is the best option for construction accounting? Why or why not?
Share your thoughts in the comments section below.