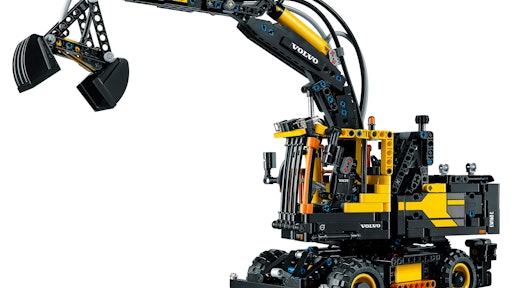 Time to start shopping for holiday gifts the construction workers in your life. Whether it be your employees, co-workers, family or even yourself the ForConstructionPros.com 12 Days of Construction Christmas 2016 will highlight some great gift options for those construction workers on your shopping list.
On the first day of Christmas... gift #1 LEGO Technics Volvo EW160E
Developed in partnership with Volvo Construction Equipment, this 2-in-1 LEGO Technic model is a detailed replica of the Volvo EW160E wheeled excavator. It has all the features of the real life excavator including an operable pneumatic boom and grabbing bucket. You can also rotate the massive superstructure and elevate the cab. Extend and secure the outriggers for more stability, lower the front blade and lift the entire structure into the air.
The detailed cab includes a seat, armrests, sun visor and adjustable mirrors. With the addition of the LEGO Power Functions 8293 motor set (sold separately) you can fully motorize the boom and have working lights.
This 2-in-1 model can also be rebuilt into the heavy-duty Volvo L30G compact material handler.