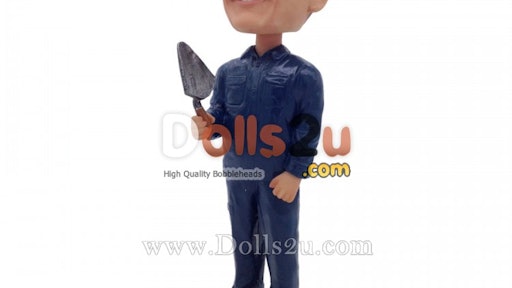 Continuing the 2016 12 Days of Construction Christmas countdown…
On the third day of Christmas... gift #3 Custom-made bobblehead
Who doesn't want their own "mini me" who always agrees with them? With a custom-made bobblehead, construction workers can have just that. From dolls2u.com, you can custom design your own bobblehead to feature your face (or the face of the person you are gifting it to).
After you upload a front and side view picture you can customize hair and eye color. You can include extras too such as glasses, hat or helmet, text on the shirt or base, and add a logo or tattoo. You can also specify clothes color.
The bobbleheads are between 6.5 and 7.7 inches.
Dolls2u.com provides free approvals during the different stages of creation including head proofs, body proofs and final proofs. Along the way you can specify detailed changes such as wider nose or thinner lips.
We proudly offer FREE approvals in the different stages during the creation of your 
bobbleheads doll
. Changes can be made like making the nose wider or lips thinner - this means a great deal when sculpting your doll to ensure satisfaction.
Looking for other construction-related gifts? Check out the other 12 Days of Construction Christmas gifts…
Day 1 – LEGO Technics Volvo EW160E