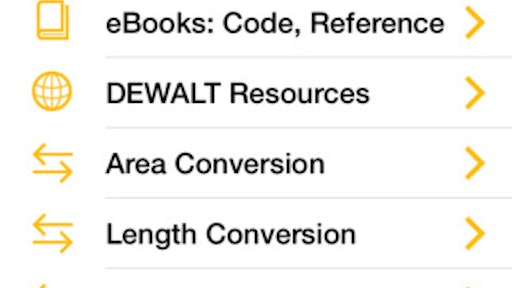 Mobile app: DEWALT Mobile Pro
Developer: Infinity Softworks
Cost: Free
Available on: Apple and Android devices
The DEWALT Mobile Pro app is a full-featured calculator and reference tool designed for construction pros. It features a construction and scientific calculator plus calculator templates for area, length and volume. There are also calculator templates for estimating studs, drywall and concrete slabs.
While the above features are all available free, the calculator app does off in-app purchases for construction topics like concrete, business math, carpentry, finish materials, trim work, site work, landscaping and more. 
App features:
Area, length and volume conversions
Area and volume shape math
Share calculation results instantly through email
Find previous calculations in stored history
Search, filter and create favorites to make calculations easy to find
Access DEWALT resources directly from the app, find service centers and more