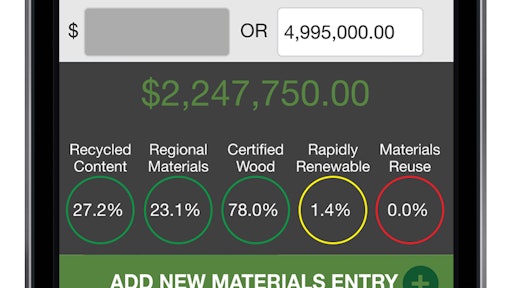 Mobile app: Green Badger LEED Documentation
Developer: Green Badger LLC
Cost: Free with monthly project-based subscription
Available on: Apple and Android devices
The Green Badger LEED Documentation mobile app provides instantaneous LEED documentation and verification for LEED construction credits right on your mobile device.
Plus, the app allows users to provide real-time updates to an unlimited number of team members and owners of LEED construction credits. Reports can be exported and backed up for LEED credit documentation.
[VIDEO] Overview of Green Badger LEED Documentation Mobile App and Software
[VIDEO] Green Badger LEED v4 Functionality on Mobile App
According to developer Green Badger LLC, the Green Badger LEED Documentation mobile app can "leverage the power of multi project analytics allowing you to share your firm's sustainability efforts with unique performance metrics. Cloud collaboration and real time reporting allows project teams to stay up to speed at all times."
The developer also claims the app can help reduce the risk of losing LEED points and significantly cut the amount of time and effort spent tracking down documentation, verifying products and creating LEED reports. Green Badger LLC claims the app can cut time spent on LEED construction documentation by over 60%.
One key feature of the Green Badger app is users can search a product database to find and automatically document low-emitting and v4 compliant products.
With the Green Badger LEED Documentation mobile app, you can invite team members to manage project data, add new entries and view reports for seamless collaboration in real time. When a project is complete, Green Badger exports documentation that is formatted and ready for LEED Online.
App features:
Capture time-stamped jobsite photos and add comments in real time
Create real-time erosion and sedimentation control reports to document compliance or identify areas of improvement
Select erosion and sedimentation control measures that are applicable; insert pictures where measures are deficient; add comments and locations
Enter construction waste recycling tickets as they come in; take a picture of the ticket for proof
Track all sustainable materials and stay up to date with a real-time dashboard
Create instant indoor air quality management reports, documenting protection measures taken throughout the construction process
Scan a product's barcode to instantly check its VOC content
Creates a log of all scanned products for LEED documentation as well as MSDS sheets; save individually or batch download for review process
Email reports or share with other Green Badger users
Automatically create and send a formatted PDF report with photos and comments