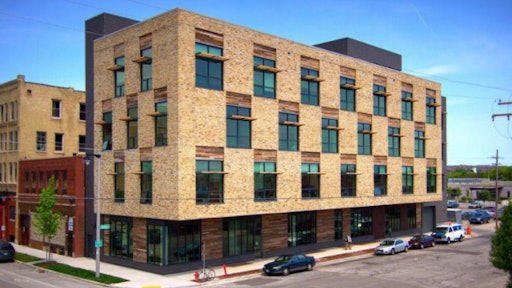 Now that spring has finally sprung in the Midwest, a new energy is in the air. Everything is sprouting new life … trees, flowers and yes, even construction projects.
I took note on a recent drive and sure enough, there is "green" all around in the form of sustainable construction projects.
Take a look at these two local projects – both are located within an hour drive of our office.
The mixed-use Clock Shadow Building in the densely developed Walker Point neighborhood of Milwaukee, Wisconsin. was constructed in 2012 last year on a vacant brownfield site. The 30,370-square-foot office building contains several sustainable attributes, such as daylighting, geothermal wells and reclaimed building materials. The finished building was recently named one of the Top Ten Green Projects of 2013 by the American Institute of Architects' Committee on the Environment.
Some of the sustainable features include:
Sunshades and light shelves draw in daylight when needed and reduce thermal gain during the hottest times of year, which has helped reduce energy consumption by 50% based on ASHRAE 90.1.
A green roof and vegetable garden absorbs storm water and reuses some of it for toilet flushing — the first building in Milwaukee to reuse greywater in this manner  — which has reduced consumption of city water by 60%.
During construction, at least half of the brick, wood and metal siding materials were salvaged, recycled or grown from rapidly renewable sources.
99% of construction waste generated at the 4,000-square-foot site was diverted from landfills and either recycled or reused.
Thermal massing wells were dug to provide efficient heating and cooling for the building's occupants.
The Lake Mills Middle School, completed in February 2010, earned LEED platinum certification.
Since the middle school was built, the ratings system has changed. The new Prospect Elementary building will be a beta-test for the new system of LEED. The test is much more stringent and requires builders to push the envelope when putting together designs for new buildings.
Some of the sustainable features of the elementary school will include:
Low-flow, auto-sensor toilets will be used throughout the building.
High-quality glass will be used on the windows of the school in order to keep glare and heat out of the building.
Windows will be operable so teachers can open and close them.
A geo-thermal heating and cooling system will be used in the building.
Materials going into the school are, to some degree, recycled content.
Natural lighting will be in nearly all of the classrooms.
Daylight sensors will be in every classroom.
What sustainable projects are going on in your area? Let us know – you might even see them highlighted here in this blog, on our website or in our magazine.